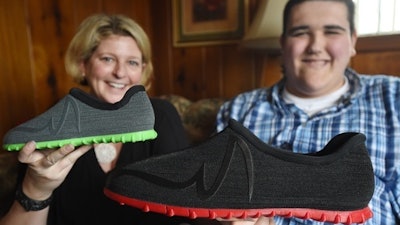 J. Scott Park/Jackson Citizen Patriot via AP
MICHIGAN CENTER, Mich. (AP) — A 19-year-old Michigan man who was previously in the Guinness Book of World Records as the world's tallest teenager has finally found an affordable pair of shoes to fit his size-28 feet, thanks to a 3-D printer.
Broc Brown — who is 7 feet 8 inches tall — has Sotos Syndrome, also known as cerebral gigantism, which affects about one in every 15,000 people, the Jackson Citizen Patriot reported.
Brown's aunt, Stacy Snyder, said that along with abnormal size, Sotos causes Brown to have chronic back and knee pain, along with other ailments. Snyder said no one is sure when he will stop growing.
"I can walk in a store and walk out with five pairs of shoes if I want to," she said. "He can't."
California-based Feetz stepped in to help. The shoe company uses an app to convert photos of someone's feet into a 3-D model, which can be measured to create custom-fit shoes manufactured by a 3-D printer.
Feetz CEO Lucy Beard delivered a pair of black and red shoes to Brown at his home in Michigan Center last week. The shoes were the colors of Brown's favorite basketball team, the Chicago Bulls.
"Whoa," Brown said. "Heck, I don't like them. I love them. Thank you."
Beard said it was a first for the company.
"We've never done a shoe this big before, but we're just excited to get Broc some comfy shoes," Beard said. "We're really just honored to do this."
Beard said Feetz shoes cost between $99 and $250, versus the typical custom-fit shoes that cost a minimum of $400 to $500.
Until he turned 18 in 2015 and could no longer qualify, he was considered the tallest teenager in the world. With his new shoes, Brown thinks he can get back in the Guinness Book of World Records.
"These definitely are the world's largest 3-D-printed shoes," he said.