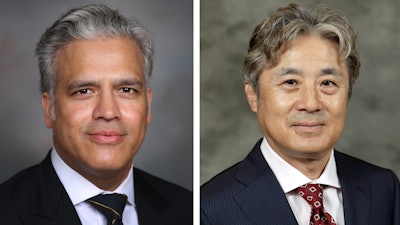 GM
General Motors and Honda yesterday announced the executive structure for their recently established joint venture company, Fuel Cell System Manufacturing, LLC (FCSM).
Suheb Haq of GM will serve as the first president of FCSM, and Tomomi Kosaka of Honda will be the new company's vice president. Haq and Kosaka will be responsible for operations, overseeing the start-up of the JV and ongoing manufacturing operations. GM and Honda plan to rotate the positions of president and vice president every two years.
Haq most recently was director of GM Operational Excellence. Kosaka was president & CEO of Honda of America Mfg., Inc., responsible for manufacturing operations of three auto plants and an engine plant in Ohio.
Further, FCSM will include a board of directors consisting of three executives from each company that will include a rotating chairperson.
Representing Honda on the FCSM board of directors are:
Takashi Sekiguchi, Managing Officer and Director/Chief Operating Officer, Automobile Operations, Honda Motor Co., Ltd.
Mitsugu Matsukawa, Operating Officer/ Chief Operating Officer, IT Operations/ Head of Production Planning Supervisory Unit, Production Operations, Honda Motor Co., Ltd.
Rick Schostek, Executive Vice President, Honda North America, Inc.
Sekiguchi will serve as the first chairperson of the FCSM board of directors.
Representing GM on the FCSM board of directors are:
Charles Freese, Executive Director, Global Fuel Cell Business
David Maday, Executive Director, Corporate Development
Robert Portugaise, Executive Director, Manufacturing Engineering
FCSM was established with equal investments from Honda and GM totaling $85 million, creating the auto industry's first manufacturing joint venture to mass-produce an advanced hydrogen fuel cell system that will be used in future products from each company.
FCSM will operate within GM's existing battery pack manufacturing facility site in Brownstown, Michigan, south of Detroit. Mass production of fuel cell systems is expected to begin around 2020 and create nearly 100 new jobs.
Honda and GM established a master collaboration agreement that was announced in July 2013. It established the co-development arrangement for a next-generation fuel cell system and hydrogen storage technologies.
The companies integrated their development teams and shared hydrogen fuel cell intellectual property to create a more affordable commercial solution for fuel cell and hydrogen storage systems.