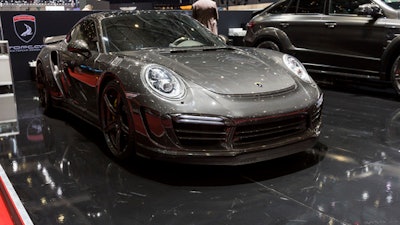 Cyril Zingaro/Keystone via AP
GENEVA (AP) — Automakers are putting a slew of new SUVs and high-performance sports cars on display (view photos in gallery) at the Geneva International Motor Show as they try to keep up momentum in an industry facing uncertainties like Brexit and possible changes in U.S. trade policy.
Jaguar Land Rover on Tuesday showed off its Range Rover Velar, a sport-utility that promises crisp handling and acceleration. General Motor's Opel division unveiled the Crossland X, based on a platform shared with PSA Group.
The vehicle is a sign of more to come, since PSA Group has agreed to buy lossmaking Opel from GM. The Crossland taps into a trend of building ever-smaller SUVs; this one is a little shorter than the Astra compact hatchback that serves as the brand's mainstay.
PSA Group itself had a new SUV, from its high-priced brand DS. The DS7 Crossback has headlights that adjust to driving conditions and distinctive scale-pattern rear brake lights.
Analysts say consumers like SUVs' higher riding position in traffic, and the perceived added space to carry things.
A specialty of the show in wealthy Geneva is breathtaking hypercars — sports cars with ever-bigger engines and quicker acceleration.
Ferrari's 812 Superfast has flaps that shift position to improve aerodynamics, and a giant 6.5-liter, 12-cylinder engine. The Huayra Roadster from Italy's Pagani shows striking design, with sweeping curves and side mirrors on curving pylons.
Executives were often asked about the impact of Britain's pending departure from the European Union after a referendum last year. The terms of the departure from the free-trade bloc have not been negotiated, leaving executives expressing hope for an amicable divorce that does not impose heavy import taxes, or tariffs.
Jim Farley, Ford Motor Co. executive vice president and president of Ford of Europe, said the company has about 15,000 employees in the U.K. and about half of them make engines that are shipped to Europe, installed in vehicles and sometimes re-imported into the U.K.
"So any kind of tariff for us in the whole industry would be a huge headwind and also for customers, you know, the prices would be much higher," he told The Associated Press. "We're very optimistic that the U.K. and the EU will work out a non-tariff agreement for our sector."
Automakers also face uncertainty from proposals by U.S. President Donald Trump to impose a border tax on imported autos. If enacted, such a tax could disrupt current production arrangements, especially for automakers who import into the U.S. from plants in Mexico.
The Geneva show opens to the public Thursday and runs through March 19 at the Palexpo exhibition center next to Geneva's airport.