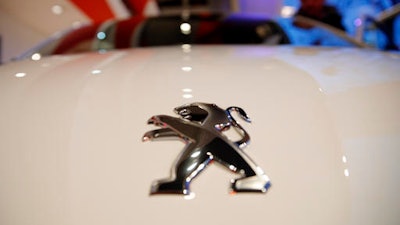 AP Photo/Christophe Ena
PARIS (AP) — The chairman of French carmaker PSA Group wants to create a "European car champion" with the potential purchase of General Motors' European car business, and pledged to work with governments and unions worried over job cuts.
After reporting a near-doubling in 2016 profits, Carlos Tavares lauded the benefits of a deal that could reshape the continent's car market and see PSA, the maker of Peugeot and Citroen cars, leapfrog the Renault Nissan alliance to become Europe's No. 2 carmaker behind Volkswagen.
Speaking in Paris Thursday, Tavares said PSA's ambition to buy GM's loss-making German subsidiary Opel and its British brand Vauxhall is rooted in his company's remarkable financial turnaround. PSA, which had to be bailed out by Chinese investors and the French government just three years ago, was able to announce Thursday its first dividend payment in six years alongside the profit jump.
Tavares insisted that the potential deal is "nice to have" but "not a must" and laid out reasons why he thinks it would be a good idea: it could improve Opel's bottom line, expand PSA's market, and keep both companies competitive globally.
He said a combined company could have sales volumes of 5 million cars.
Detroit-based GM has been trying to boost prospects for its European business, which last made a full-year profit in 1999.
"We believe there is an opportunity to create a European car champion, resulting from the combination of a French company and German company and without forgetting our U.K. friends," Tavares said.
"Opel has been making red ink for 10 years, and burning approximately 1 billion in cash every year," he said. "We believe we can help."
He insisted that Opel would remain a distinct German brand, in part to benefit from Germany's strong reputation for car engineering.
He said PSA would respect existing labor agreements, though he didn't explicitly rule out job cuts. Tavares has spoken with German Chancellor Angela Merkel and British Prime Minister Theresa May and met with Opel employee representatives since the takeover discussions were announced last week.
"The best way ... is to have unions and governments on your side," he said.
Jobs are an especially sensitive issue in what is an election year in both Germany and France.
French Finance Minister Michel Sapin — whose government is a 14-percent shareholder in PSA — said Thursday that he spoke with Tavares and won "very firm commitments" to labor dialogue.
After discussing the deal with German Economy Minister Brigitte Zypries in Paris on Thursday, Sapin said he hopes the negotiations proceed "quickly, but without haste."
He argued a deal could be profitable to both sides, and also acknowledged that "PSA needs German quality."
While the German government does not have a stake in Opel, Merkel's government is eager to show it is watching out for German jobs and industry.
"Our biggest priority now is the compliance to the current agreement regarding the production sites, the development centers — you know that some 7,000 engineers are employed in Ruesselsheim, who are over there developing the new models — and of course about employment itself," Zypries said.
Opel employee representatives and union leaders in Germany say they will push to keep current jobs and factories. Britain's biggest trade union has demanded that the government protect Vauxhaull, as Britain prepares to leave the EU and PSA considers the buyout.
While revenues last year were largely stable, PSA's group profit was 1.7 billion euros last year, up from 899 million in 2015, attributed in part to a faster-than-expected cost-cutting. The company also announced plans for a 48 euro cents dividend per share.
Beyond Europe, Tavares acknowledged that PSA is frustrated with lost market share in China, but said PSA hopes to double sales in Iran this year after the lifting of sanctions allowed the French carmaker to revive activities there.
Chief Financial Officer Jean-Baptiste de Chatillon said PSA took a "big hit" on currency volatility, especially in Britain after its vote to leave the EU sent the pound plunging against the euro.