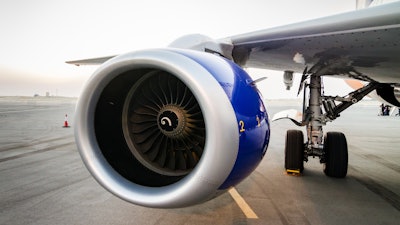 TAICHUNG, Taiwan (AP) — Seeking to revive its long-dormant aerospace industry, Taiwan on Tuesday launched a $2.1 billion investment in the production of air force jet trainers to be designed and manufactured on the island to counter Chinese military and diplomatic pressure.
President Tsai Ing-wen presided over a ceremony in the central city of Taichung to inaugurate the project, which she hopes will aid Taiwan's security and stem the flow of engineering talent overseas. The push to develop new homemade equipment is seen as growing more urgent against the backdrop of rival China's increasingly rigid approach to Tsai's independence-leaning government.
"Building fighters locally is not a dream, it is an action. We not only want the fighter to take off, but also want the industry to upgrade and take off as well," Tsai told participants.
Taiwan has largely abandoned the aircraft industry since it developed its Indigenous Defense Fighter, or IDF, in the 1980s following difficulties in obtaining military hardware abroad as a result of pressure from China.
Although Taiwan has since bought fighter jets from the U.S. and France, Tsai said failure to develop the domestic industry would be a "major disaster" for the island democracy's security. She said the project would also help upgrade the high-tech island's precision industries.
"Taiwan's locally made fighter industry has been stagnating for almost 30 years. Not only has our aerospace industry been outperformed by other countries that had lagged behind us, but we also suffered serious brain-drain," Tsai said. "We do not have another 30 years to waste. Now, the government is adamant in leading its people to regain the prestige of its defense industry."
To aid the development, the Taiwanese military's main research base, the National Chung-Shan Institute of Science and Technology, has received a 21 percent budget increase in the past year alone, Tsai said. Domestic manufacturer Aerospace Industrial Development Corp. will also participate in the project, which aims to deliver its first aircraft by 2020.
The new planes, 66 of which are on order, will replace the locally-made AT-3 Tzu Chung trainers built in the 1980s, along with even older U.S.-made Northrop F-5s.
Prior to Tsai's election last year, the former ruling Nationalist Party government had been considering broad cooperation in the project with foreign companies, which might have helped counter pressure from China, which considers the island its own territory to be unified with by force if necessary.
That approach was abandoned amid calls by Tsai and others to revive and nurture the local industry.
Taiwan's IDF fighters remain in service and are now undergoing upgrades, although they remain inferior to China's newest generation mainstay, the J-10, an indigenously developed model, and the J-11, which is a copy of Russia's Su-27. Taiwan's air force fleet also boasts the advanced French Mirage 2000 and the U.S. F-1 Fighting Falcon.