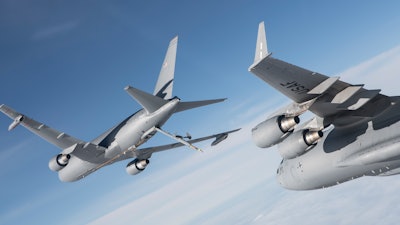 Boeing
Last week, the U.S. Air Force awarded Boeing $2.1 billion for 15 KC-46A tanker aircraft, spare engines and wing air refueling pod kits.
This order is the third low-rate initial production lot for Boeing. The first two came in August 2016 and included seven and 12 planes, respectively, as well as spare parts.
Boeing plans to build 179 of the 767-based refueling aircraft for the Air Force to replace its legacy tanker fleet. Tanker deliveries will begin later this year.
Boeing received an initial contract in 2011 to design and develop the Air Force's next-generation tanker aircraft. As part of that contract, Boeing built four test aircraft – two configured as 767-2Cs and two as KC-46A tankers. Those test aircraft, along with the first production plane, have completed nearly 1,500 flight hours to date.
The KC-46A is a multirole tanker that can refuel all allied and coalition military aircraft compatible with international aerial refueling procedures and can carry passengers, cargo and patients.
Boeing is assembling KC-46 aircraft at its Everett, Wash., facility.