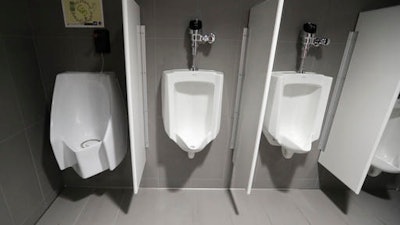 AP Photo/Carlos Osorio
ANN ARBOR, Mich. (AP) — The University of Michigan sees value in urine.
And it wants to know if others do, too.
The Ann Arbor school announced Tuesday that it has installed a toilet and urinal in a campus engineering building that take aim at converting human urine into fertilizers.
The split-bowl toilet is designed to send solid waste to a treatment plant, but route urine to a holding tank downstairs. Urine diverted from the toilet and urinal will be treated and eventually used to create fertilizers that will be applied on the grounds of the university's botanical gardens.
Call it pee-cycling.
Tuesday's opening of the facilities at the G.G. Brown building coincides with the launch of a survey to understand public opinion surrounding the technology. Urine contributors will have the opportunity to register their thoughts on a tablet computer situated in the restroom.
"It's possible that when people are asked to contribute to a system where their urine is diverted and used as fertilizer they might feel a little queasy about this at first," Michigan engineering professor Krista Wigginton said after cutting a ceremonial ribbon outside the women's restroom. "And, so, a large part of this project is actually on the social science side, the education side," to understand whether people are willing to adopt it.
The multi-state research effort is part of a $3 million National Science Foundation-funded project that's billed as the country's largest program examining the technological requirements and social attitudes related to urine-based fertilizers.
Michigan researchers, who are working with colleagues at the Vermont-based Rich Earth Institute and the University at Buffalo, say deriving fertilizer from nutrient-rich urine could save money and reduce pollution.
As for visitors to the side-by-side restrooms in the G.G. Brown building, Wigginton says they won't find anything out of the ordinary.
"I think the experience of using the toilet really isn't any different," she said, holding the stall door open and pointing at the split-bowl toilet. "That's part of the goal here: We don't want to disrupt what people are used to.
"We tried to make it as normal as possible."