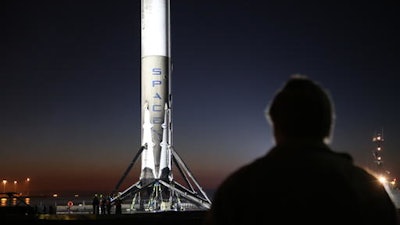 Chuck Bennett, The Daily Breeze via AP
LOS ANGELES (AP) — The first stage of a SpaceX rocket that landed on a platform floating in the Pacific Ocean after a weekend launch has arrived in the Port of Los Angeles.
Spectators watched Tuesday as the landing barge entered the harbor with the first stage of the Falcon 9 rocket standing vertically.
Justin Everhart of nearby Long Beach described it to the Daily Breeze newspaper as "a testament to human achievement."
The Falcon 9 put 10 satellites into orbit Saturday after being launched from Vandenberg Air Force Base northwest of Los Angeles.
When the rocket's second stage took over to complete the trip into orbit, the first stage descended toward the ocean and fired its engines to land on the barge.
SpaceX intends to reuse first stages to lower launch costs.