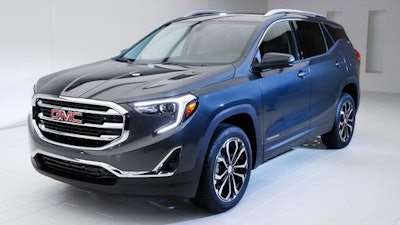 AP Photo/Paul Sancya
DETROIT (AP) — General Motors has no plans to change where it produces small cars because of criticism from President-elect Donald Trump, the company's top executive said Sunday night.
CEO Mary Barra said the auto business has long lead times for where it produces vehicles, with decisions are made two to four years ahead.
Last week Trump threatened on Twitter to slap a border tax on GM for importing the compact Chevrolet Cruze to the U.S. from Mexico.
As it turns out, GM only imports a small number of Cruze hatchbacks from Mexico and Barra said it makes all of the sedans at a factory in Lordstown, Ohio, near Cleveland.
Asked if she was worried about a possible tariff, Barra said it was too early to speculate on that. GM's strategy, she said, has much more in common with Trump's goals for trade and jobs than differences. "I very much look forward to being part of the solution that allows the country to be strengthened along with business, along with our manufacturing capability," she said on the sidelines of an event unveiling the new GMC Terrain small SUV.
Production of the Terrain will move to Mexico from a plant in Ingersoll, Canada, for the new model year. The Ingersoll plan will still make the Equinox, GM's best-selling small SUV.
Barra is part of a group of CEOs that will advise Trump on economic issues.
The president-elect is badgering the auto industry in an effort to get companies to stop making cars in Mexico and shipping them back to the U.S. Trump wants more cars driven by Americans to be built by American workers. He also has publicly criticized Ford and Toyota. Last week Ford canceled plans to build a small-car factory south of the border, while announcing 700 new jobs in Michigan. The company, however, still plans to shift production of the compact Ford Focus to an existing Mexican plant.
Jobs at the Detroit-area factory that now makes the Focus will be preserved because the plant will get a new SUV and small pickup truck.