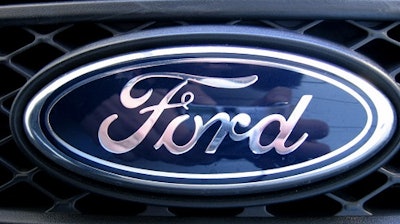 Wikipedia
WASHINGTON (AP) — President Donald Trump says that Ford Motor Co. is planning to invest in three Michigan auto plants.
Trump tweeted early Tuesday, "Big announcement by Ford today. Major investment to be made in three Michigan plants. Car companies coming back to U.S. JOBS! JOBS! JOBS!"
Trump has held several meetings at the White House with auto executives since taking office that often included Ford chief executive Mark Fields.
The president has vowed to create jobs by creating incentives to deter companies from outsourcing their employment needs. He says he will ease regulations and reduce taxes to encourage companies to hire American.
According to details revealed later this morning, it appears Ford will spend $850 million to upgrade the Michigan Assembly Plant next year to build the Ford Ranger pickup and Ford Bronco SUV. The suburban Detroit plant currently makes small cars, which are moving to a plant in Mexico.
Ford will spend $150 million to upgrade its Romeo Engine Plant outside Detroit. The company says it will create or retain 130 jobs at that plant.
Ford is also spending $200 million on a data center that will store information collected from advanced vehicles.
Michigan is expected to approve $30 million in tax incentives for Ford on Tuesday.