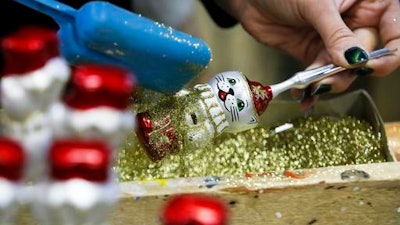 AP Photo/Pavel Golovkin
KLIN, Russia (AP) — With Christmas fast approaching, decoration makers at one of Russia's oldest glass factories are working overtime to get their creations ready to be hung on trees across the country (see photos in gallery).
The Yolochka glass factory, 85 kilometers (53 miles) northwest of Moscow, has been producing traditional handmade glass baubles for nearly 130 years. Their creations span the changing tastes of festive celebrations, with designs from pre-revolutionary times through the Soviet era to today.
Planes, airships, stars, cosmonauts, Lenin's pioneers and military men all adorned festive trees in Soviet Russia. That was a time when propaganda decorations promoted Soviet ideals, even for the New Year's Eve celebrations that came to replace Christmas, which had been banned in an officially atheist society. The Soviet-era glass figurines are now valuable collectors' items.
At Yolochka, a new generation of craftsmen and women are using glass-blowing techniques to create new unique styles. It's a process that hasn't changed much since the small factory was first established in the 19th century in the town of Klin. Balls, pines, bears, cones or star-shaped tree-toppers are made by melting glass with a flame, which is then blown into shape.
A creative team develops new designs every year, which are then approved by Russia's Ministry of Industry and Trade, a system of state approval that dates back to Soviet times.