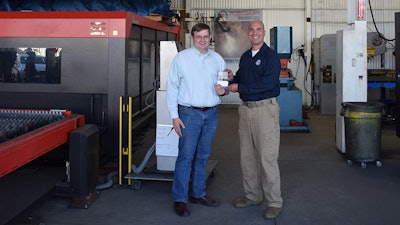 WFW
SAN DIEGO – November 11, 2016 – Workshops for Warriors (WFW) is a nonprofit school that provides Veterans with free training and nationally recognized industry credentials in CAD/CAM programming, CNC machining and welding.
Today, it announced that it has obtained a patent for its product that levels machines on support surfaces.
Secured by Fish & Richardson, a patent, intellectual property (IP) and commercial litigation law firm, the solution offers a quick and easy way of leveling large, industrial machines that are anywhere from 1/8" to 12" off level, which could interfere with machine performance if uncorrected.
"With Fish & Richardson's involvement, we are able to take what we do really well and leverage our advanced manufacturing infrastructure to create a product that's useful throughout the U.S. and potentially the world," said Hernán Luis y Prado, founder of Workshops for Warriors. "There are numerous benefits to this patent. In addition to fostering creativity and innovation internally, it also offers a sustainable revenue stream for WFW while providing training and experience for the Veterans who are in our social enterprise. The firm not only helped us with our IP protection and patent work, but with the structure of the licensing program."
The idea was born out of necessity. Intended for industrial manufacturing machines that are supported by irregular and unlevel surfaces, the product assists manufacturers who operate very delicate and heavy pieces of equipment that need to be leveled.
WFW encountered situations where all of the machines at a particular location were as much as 10" out of level. Instead of having to manufacture an offset for each of the machines, WFW devised another system that included a set of rugged shims that lock together, securely holding a piece of equipment by locking the foot of the machine without having all of the leveling support structure give way, slide, or move once the machine began vibrating.
Founded in 2008, WFW offers classes in advanced CNC manufacturing, CAD/CAM programming, advanced welding/fabrication, and machinery repair.
Between 2011 and 2016, the organization has trained and certified 321 veterans, with 1,223 nationally recognized third-party credentials.
In 2015, 94% of their graduates obtained jobs in advanced manufacturing after completing their programs.
The school solves two systemic economic issues: rebuilding America's advanced manufacturing infrastructure and providing a nationally scalable and repeatable model to train, certify, and help place transitioning service members and veterans into advanced manufacturing careers.
WFW and Fish formed a pro bono partnership in 2012.
"Working with pro bono clients such as WFW is a win-win for Fish and the client: we created additional opportunities for WFW to raise money, and the Fish team was able to work on a really interesting project with a very impressive organization. For starters, the leveling devices can be made by their social enterprise corporation, VetPowered LLC, to earn money, or be licensed to other manufacturing companies. The revenue can go to supporting the training of veterans in their quest to achieve high paying jobs in the U.S. manufacturing industry," said John Phillips, principal at Fish & Richardson.