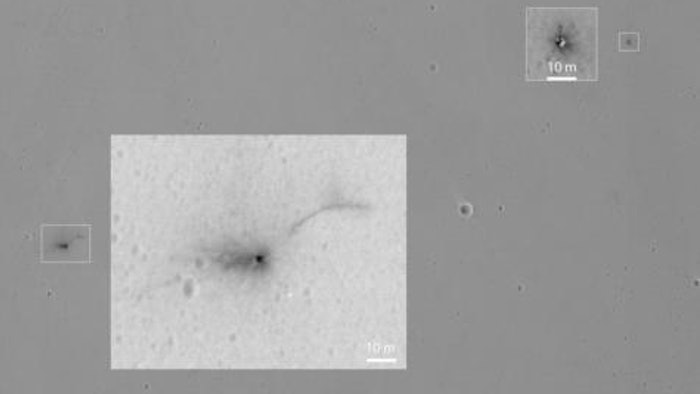 NASA via AP
BERLIN (AP) — New pictures taken by a NASA satellite indicate that Europe's experimental Mars lander created a shallow crater when it crashed on the surface last week.
The images released Thursday show in greater detail the likely fate of the Schiaparelli probe, which was designed to test technology for the European Space Agency's attempt to put a robot on Mars in 2020.
ESA lost communication with Schiaparelli shortly before the probe was supposed to touch down on Oct. 19.
Two days later, pictures captured by NASA's Mars Reconnaissance Orbiter showed a fuzzy black spot at the landing site — indicating that the probe may have exploded.
The latest images indicate that Schiaparelli dug a crater some 50 centimeters (nearly 20 inches) deep and about 2.4 meters (7.9 feet) across when it hit the surface at a speed of more than 300 kph (186 mph).
The agency said it's still analyzing asymmetrical dark markings around the site, which suggest the craft's propellant tanks exploded largely in one direction.
Mark McCaughrean, a senior science adviser at the European Space Agency, said data received from Schiaparelli before the crash indicate that the probe may have become confused in the final moments before the crash.
"Fundamentally there's a software issue here between the radar and the on-board computer system," he said. "The radar was giving inconsistent info on where it was."
This led the probe, which was following a pre-programmed descent because the distance prevented it from being controlled in real time, to assume that it was already on the surface.
Data sent back to Earth show that Schiaparelli's thrusters, which were meant to slow it down before the final landing, only fired briefly.
A final report on the crash is likely to be completed next month, said McCaughrean. "Everybody would like to do it quickly, but you have to get it right."
Scientists hope that by analyzing the data they will be able to avoid the ExoMars 2020 lander from meeting the same fate as Schiaparelli and Europe's Beagle 2 probe, which landed on Mars in 2003 but failed to deploy its solar panels properly, preventing it from functioning.
Only NASA has successfully performed robotic landings on Mars, most recently in 2012 with the Curiosity rover.