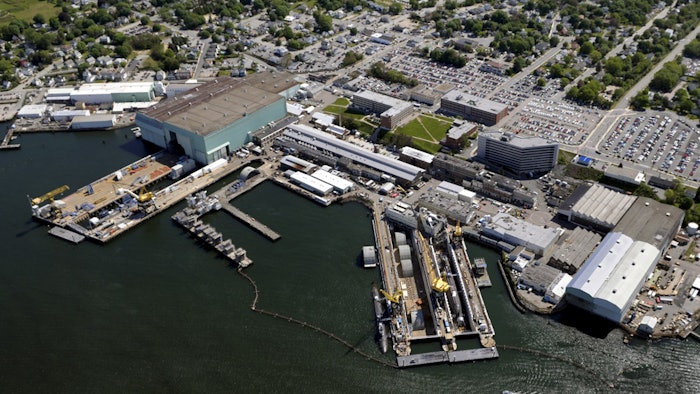 Electric Boat
GROTON, Conn. (AP) — U.S. Navy contractor Electric Boat is bringing military veterans who work at the company together to try to improve their job satisfaction, reduce attrition and recruit more veterans.
The "EB Veterans Network" officially launched Thursday at the Groton, Connecticut, headquarters, Rhode Island manufacturing facility and satellite sites nationwide.
It aims to connect veterans with one another through social events and mentoring, to build a community and camaraderie. It will also connect them with veterans' resources and staff at the company to answer their questions, such as how to translate their military skills for a civilian resume.
Participants can volunteer to help recruit more veterans to the company.
Some large companies, including GE and Pratt & Whitney, have programs to recruit veterans and help them advance through career development initiatives and networking. But many companies that have been hiring veterans are just now trying to figure out how to ensure their new employees succeed.
First Lady Michelle Obama and Jill Biden started a White House campaign to help military families in 2011. The focus of Joining Forces has been primarily on helping veterans and military spouses gain employment.
As Electric Boat has recruited more military veterans, it became clear that the shipyard could do more to support them after they were hired. There were groups for female employees, black engineers and others to socialize and network, but nothing existed to help veterans, especially those that were finding it challenging to transition from the military.
Gregory Klama, an operations supervisor at Electric Boat, served in the Air Force. Klama, 31, said he and his co-workers are not a tightknit social group, like his colleagues who were in the military. He wants to meet other veterans at Electric Boat so the office becomes more than just a place to earn money.
"Having anything, in any form, that allows people to come together, make those stronger connections, gives them a greater sense of membership, a greater sense of personal ownership over the atmosphere in a workplace," he said. "It's actually a place you want to be, a place you enjoy spending time with other people in."
Of the 14,400 current employees at Electric Boat, about 20 percent are veterans, said Patrick Reuss, Electric Boat's director of staffing. More than 200 veterans were hired this year alone, he added.
"That culture of the military, it's a way of life. We want to make sure that as they transition to their new role, their new lifestyle here as EB employees, that they feel the same sense of belonging," Reuss said.
The network formalizes what some employees have been doing on their own. Retired Navy Capt. Emil Casciano, an engineering director, has recommended submariners for jobs there. Casciano said he always checks in on the new hires.
"Having a fellow vet who has been through it, who knows the ropes and can say, 'Let me show you how to get that done,' is extremely beneficial," he said.
People who are not veterans but would like to support them can join the network too. The groups at GE and Pratt & Whitney are also open to all employees. GE has about 10,000 employees in its network and Pratt & Whitney has about 500, according to the companies.