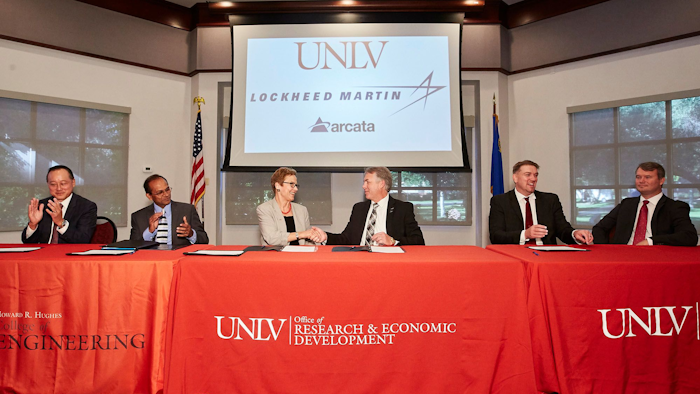 Josh Hawkins/UNLV Photo Services
The University of Nevada, Las Vegas and Lockheed Martin have entered into a commercially sponsored master agreement that supports UNLV faculty and student work on NASA's Orion program and other Lockheed Martin space exploration projects.
During the course of the five-year collaboration, Lockheed Martin will provide up to $5 million in funding to UNLV's Howard R. Hughes College of Engineering through a series of task orders commissioning work related to space exploration.
"Lockheed Martin is extremely pleased to be entering into this long-term relationship with UNLV," said Scott Jones, director of civil space supply chain management at Lockheed Martin. "This effort will allow both Lockheed Martin and UNLV to provide meaningful work to our NASA customers as they continue to push the boundaries of space exploration."
Lockheed Martin's interest in partnering with UNLV stems from the university's successful collaborations with Arcata Associates, Inc.; Teledyne Brown Engineering, LLC; and NASA on NASA's Mentor-Protégé Program, which enabled UNLV students to work on space program training development.
"Lockheed Martin has always been a leader in space exploration, and we are excited about collaborating with them on projects for their civil space programs," said Rama Venkat, dean of the Howard R. Hughes College of Engineering. "This partnership will provide unique opportunities for our students to enhance their knowledge and research capabilities in exciting new areas and help accelerate the efforts of Lockheed Martin research activities and the nation's ambitious space program."
"This agreement with Lockheed Martin is exciting not just because it supports the development of our faculty and student innovations; there is also the intention to see these innovations applied more broadly," said Zach Miles, UNLV's associate vice president for economic development.
A signing ceremony celebrating the new partnership between Lockheed Martin and UNLV took place October 11, 2016 at UNLV's Tam Alumni Grand Hall.