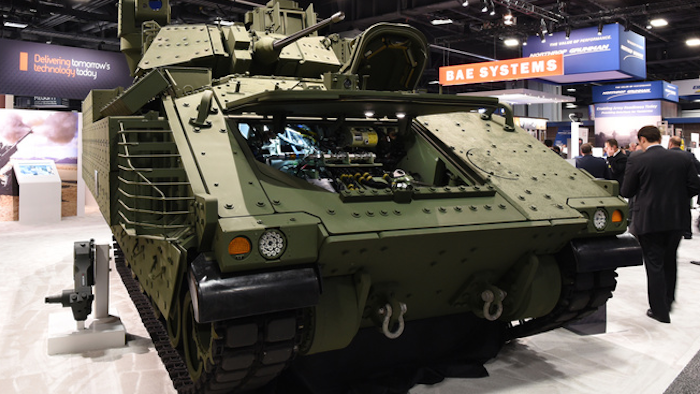 BAE Systems
BAE Systems' Next Generation Bradley Fighting Vehicle demonstrator made its debut yesterday at the Association of the United States Army (AUSA) annual meeting in Washington, D.C.
The concept vehicle features an upgraded chassis that allows for significantly increased underbelly protection, improved force protection for mounted troops, compartmentation of fuel and ordnance, and more space and electrical power for future technology growth.
"In the current budget environment, the Army often has to choose between maintaining an existing fleet and developing new capabilities," said Deepak Bazaz, director of Artillery and Bradley Programs at BAE Systems. "We're investing in research and development to demonstrate cost-effective options for the Army to address current gaps. We're focused on integrating current, emerging, and future technologies to significantly improve the Bradley's mobility, force protection, and lethality.
The Next Generation Bradley includes suspension upgrades to enhance mobility to maneuver within the Armored Brigade Combat Team (ABCT). It incorporates an upgraded turret from the current Bradley and enhancements achieved during ongoing Engineering Change Proposal modernization efforts, such as suspension improvements, targeting sensors, and network connectivity.
BAE Systems will use this vehicle to mature these technologies and provide a platform for development and user experimentation and evaluation.
The prototype features armor, fuel tanks, and the driver's hatch from the Armored Multi-Purpose Vehicle, and the 600 volt electronics and final drives from the M109A7 Self-Propelled Howitzer integrated with current and future Bradley systems.
Leveraging technology from other BAE Systems-built vehicles in the ABCT allows for significant savings in both development time and cost.
In addition, the commonality of parts among the vehicles also provides significant cost savings opportunities over the life cycle of the vehicle and reduces the complex logistics trail.