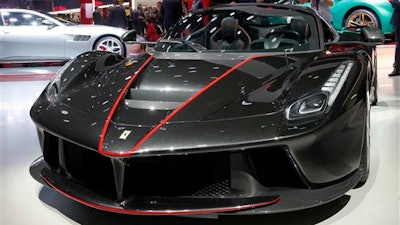 AP Photo/Christophe Ena
PARIS (AP) — Fast, ferocious-looking and environmentally conscious, too — that's Ferrari's new limited edition model LaFerrari Aperta convertible.
The hybrid two-seater turned plenty of heads at the Paris auto show Thursday, where the focus is increasingly on electric vehicles.
Only 200 models are being released to the public — and they've already been snapped up, despite a price tag of between 1.8 million euros and 2 million euros ($2-2.2 million).
Black with red accents, the low-slung LaFerrari is being released for the company's 70th anniversary. Ferrari also showed off the GTC4LussoT, a four-seater aimed more at day-to-day driving and priced around 230,000 euros.
Will there ever be a driverless Ferrari? "Oh no. At least not for a long time," Piero Ferrari, son of the company founder, told The Associated Press.