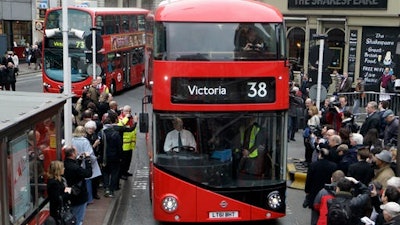 AP Photo/Sang Tan, file
LONDON (AP) — Londoners will soon be able to get air quality reports when they check whether their bus is about to arrive.
Mayor Sadiq Khan has ordered that 2,500 bus stop information signs display air quality alerts on high pollution days.
Some 140 dot-matrix message boards on roads leading to London will also display the information, along with instructions for drivers to switch off their engines while stuck in traffic to reduce emissions. Electronic update signs at subway stations will also display information on air quality.
The initiative, which begins Aug. 15, is part of Khan's crusade to clean up the air in the British capital. After taking office earlier this year, the mayor commissioned a survey showing that nearly 80 percent of those who responded were interested in receiving pollution data.