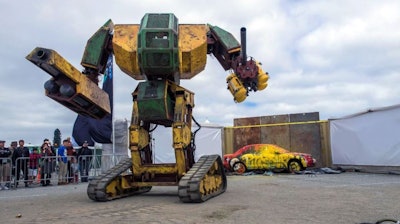 Megabots
DEARBORN, Mich. (AP) — The Henry Ford history attraction in suburban Detroit is hosting a festival celebrating arts, crafts, engineering and technology.
Maker Faire Detroit is in its seventh year, with events Saturday and Sunday in Dearborn. It features an array of attractions, including robots, rockets, virtual reality creations, handmade crafts, sculptures, hands-on activities and demonstrations.
A 15-foot-tall fighting robot Megabot will highlight the outdoor midway, firing paintballs at speeds of over 120 mph at a car. Musician and composer Dorit Chrysler will host workshops about playing an electronic instrument that generates sound without being touched.
Returning projects include a three-story Hot Wheels ramp.
The Henry Ford includes Henry Ford Museum and Greenfield Village. A shuttle service sponsored by the University of Michigan-Dearborn will be available at its Fairlane campus.