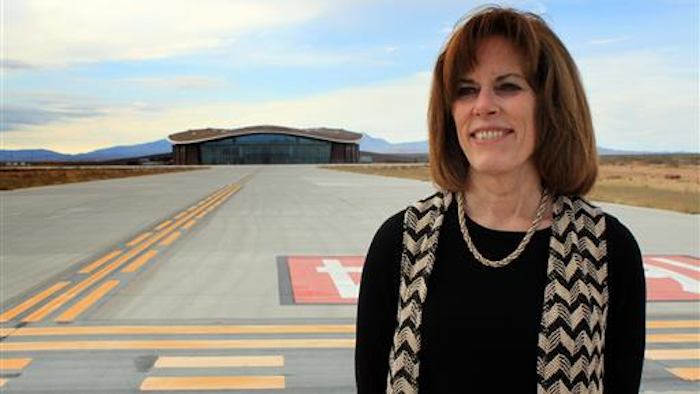 AP Photo/Susan Montoya Bryan, File
ALBUQUERQUE, N.M. (AP) — The head of the New Mexico Spaceport Authority said Tuesday she will resign, saying she still believes in the commercial space industry and that Spaceport America has a role to play despite criticism that flights filled with paying passengers have not yet lifted off from the remote desert site.
Christine Anderson announced her resignation in a memo to the authority's board and Gov. Susana Martinez obtained by The Associated Press. She said it was a difficult decision but wants to pursue "other life adventures" without offering specifics.
Anderson took over as executive director five years ago as the spaceport was just getting started.
She has been praised for overseeing construction of the futuristic launch site and bringing new infrastructure to a lonely stretch of southern New Mexico.
But delays by anchor tenant Virgin Galactic left the spaceport scrambling for revenue in recent years and fueled lawmakers' skepticism about the venture.
Anderson has repeatedly countered the criticisms.
"Spaceport America is finally reaching its prime and the momentum must continue," she wrote, pointing to more than two dozen vertical rocket launches, agreements with new tenants and a more diverse spaceport business plan. "It's important to ensure all the progress we have made will continue and thrive under new leadership."
Anderson's last day will be Aug. 19, and the board plans to cast a wide net in search of her successor.
Spaceport board chairman Rick Holdridge praised Anderson for her accomplishments.
"She took a bunch of contracts that were barely in place, some of them had problems, and now we have a beautiful spaceport, fully operational," he said. "We're gathering more customers and we're attracting movies and advertising that we never thought of."
Taxpayers paid for the state-of-the-art hangar and runway as part of a plan by British billionaire Richard Branson and former Gov. Bill Richardson, a Democrat.
The spaceport was publicized as the world's first purpose-built facility for launching paying customers, satellites and other cargo into space as well as a place for aerospace company operations.
While there's no firm date for Virgin Galactic to begin commercial flights, Anderson said earlier this year that the company's first passenger flight could lift off in late 2017 or 2018.
Virgin Galactic executives were in New Mexico in April for a series of ground and air exercises in preparation for future flights. Chief executive George Whitesides said then that his team was making progress testing its new spaceship.
After years of development, Virgin Galactic three years ago appeared to be nearing the goal of turning ordinary civilians into astronauts when its first craft, named "SpaceShipTwo," broke apart on Oct. 31, 2014 during a rocket-powered flight over the Mojave Desert. The pilot died.
Anderson and other spaceport officials have consistently defended the program despite its setbacks, saying the effort to turn commercial space flights into realty is challenging and holds promise for the state.
"Eventually technology catches up with the vision and that's what has happened with the spaceport," Holdridge said. "The idea of launching into space off of an airplane was kind of fantasy, science fiction. Now it's the real thing. Virgin has done it and now they're just getting it ready to go commercial."
Before leading the spaceport agency, Anderson served for three decades as a civilian in the U.S. Air Force.
She was the founding director of the Space Vehicles Directorate at the Air Force Research Laboratory at Kirtland Air Force Base and was the director of a military satellite communications program at the Air Force Space and Missile Systems Center in Los Angeles.