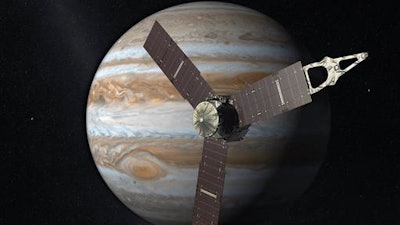 NASA/JPL-Caltech via AP
CHARLESTON, W.Va. (AP) — A West Virginia-based NASA analyst with expertise in software has contributed to the Juno spacecraft's five-year, 1.8 billion-mile trip to Jupiter.
The solar-powered spacecraft entered Jupiter's orbit Monday, last leg of a $1.1 billion mission to gather scientific data and photograph the giant planet.
Sam Brown, an analyst for NASA's Independent Verification and Validation Facility in Fairmont, said he worked on the project while dividing his time between his West Virginia office and facilities in California and Colorado.
He told the Charleston Gazette-Mail Friday that he sought to find and fix any bugs with the spacecraft's critical operating software.
"We find things that may be problems in the future, we point them out and they get fixed," Brown told the paper.
Fairmont's NASA facility opened in 1993.