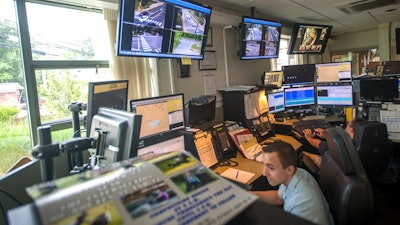 Sean Flynn/UConn Photo
STORRS, Conn. (AP) — A new gunshot detection system developed and donated by a University of Connecticut alumnus is now in place at the school as part of a pilot program.
UConn's police department over the past month installed the computer technology, which includes acoustic sensors that resemble smoke detectors, said Robert Hotaling, who developed the system for his New Haven-based security company, Verbi Inc.
Those are programmed to listen and identify the particular acoustic wave form of a gunshot, he said.
It differs from other more widely used shot detection systems, which record suspected gunfire, and then send those audio files over the internet to a human, who listens to determine whether shots were fired, Hotaling said.
"Our system will do an algorithm to apply confidence and based on the confidence will automatically notify," he said. "That means campus police can know if and where a shot was fired within seconds rather than minutes."
The system can send out notifications to a wider campus audience automatically via email, text message or text-to-voice phone calls, he said.
Hotaling, who graduated from UConn with an engineering degree in 2001, donated about $175,000 in equipment and support for the pilot program.
The system has so far been installed in just one high-traffic area of the campus, which UConn has declined to identify.
The school says it has not had a gunshot reported on campus in at least 20 years.
"We're using it to be very proactive," Hans Rhynhart, UConn's interim police chief, said in a statement. "This is a great opportunity to test a brand-new system that has the potential to be really useful to our community."
The system will be integrated with the school's existing video surveillance systems and will activate the closest video camera to give authorities a real-time look at what is going on, Hotaling said.
Hotaling said the technology has been used by the military for about two decades but is only now being converted for civilian use.
He said he began working on the system following the December 2012 shooting massacre at Sandy Hook Elementary School in Newtown.
Verbi entered the market about a year ago and so far has just one other client, he said.
"We think that it's really going to start rolling," he said. "There is definitely a focus on this type of technology for schools and businesses across America."