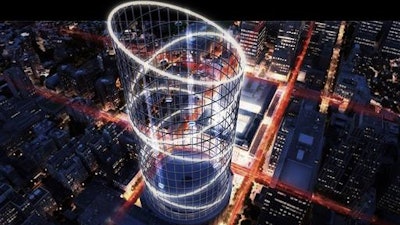 AESuperlab via AP
NEW YORK (AP) — Catching a train at New York's crowded Penn Station is no thrill. But a development team has proposed a novel plan to overhaul the station: Build a 1,200-foot thrill ride on top of it and pay for renovations by charging $35 a ticket.
The plan submitted to state officials envisions a transparent tower called the Halo with 11 gondolas offering free-fall rides of varying speeds.
"You're experiencing New York City in an unforgettable way," said Alexandros Washburn, president of Brooklyn Capital Partners, the partnership behind the plan. "It's something you will not be able to do anywhere else in the world."
John Gerber, chairman of Brooklyn Capital Partners, said the ride is feasible from an engineering standpoint, but he acknowledged that government agencies and New Yorkers might not embrace the idea.
Other ideas floated for renovating the station have included more traditional concepts, like building office towers.
"It's a public process and there are a lot of stakeholders," Gerber said. "Anything that's new is going to be complicated."
Washburn and Gerber submitted their plan after Democratic Gov. Andrew Cuomo put out a request in January for proposals to renovate the rail hub he called "a blight on the greatest city in the world."
Plans to redo Penn Station, which handles more than 650,000 passengers daily on Amtrak and commuter rail lines, have been stalled for years.
Washburn and Gerber both previously served as president of the Penn Station Redevelopment Corp., a public-private body that oversaw an earlier upgrade.
"We have been there. We know that a new approach is needed," said Washburn, an architect who also has held the job of chief urban designer for New York City.
Washburn said that as "out of the box" as the thrill-ride plan might seem, "It's coming from people who have worked on building New York City for 20 years."
Washburn and Gerber say the Halo could be situated either on top of Madison Square Garden, the arena that crowns the underground Penn Station, or one block west atop the Farley Post Office building. They say it would generate $25 million to $38 million a year in ticket sales.
Washburn said he got the idea from the New York Wheel, the 630-foot Ferris wheel now under construction on Staten Island. "We figured, aha! Take that circle, make it horizontal and elevate it," he said.
Jonathan Gouveia, senior director of planning and infrastructure for the Municipal Art Society, an urban planning advocacy group, said he sees problems with the thrill ride.
Gouveia said placing the ride on top of Madison Square Garden and Penn Station would foreclose the option of moving the Garden off Penn Station, which his organization has pushed for. "We think both of those facilities are bad for each other," he said.
Gouveia also noted that midtown Manhattan is not zoned for amusement park rides.
A spokesman for Empire State Development, the agency that's reviewing Penn Station proposals, said it can't comment on the proposals until a development team has been chosen.
Washburn admitted that the tower-ride proposal was missing one requirement: a $15 million bond.
"They wanted a $15 million bond or line of credit in their hands," he said. "There was a disconnect because they also asked for innovation. We decided that it's worth submitting."