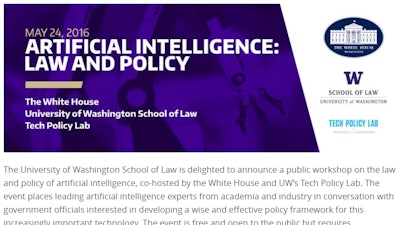 University of Washington
SEATTLE (AP) — The University of Washington will be hosting the first of four White House Office of Science and Technology Policy workshops on artificial intelligence.
The session in Seattle on Tuesday, involving the UW School of Law and the UW Tech Policy Lab, will focus on legal and policy issues around artificial intelligence.
Speakers include UW professors, White House staff and the chief executive officer of the Allen Institute for Artificial Intelligence.
Oren Etzioni, who is also a UW computer science and engineering professor, will provide an overview on the current state of artificial intelligence, followed by two panel discussions.
The first will examine issues around making decisions in the private or public sector using artificial intelligence. The second panel will focus on logistical aspects of AI applications.
The workshop is free and open to the public.