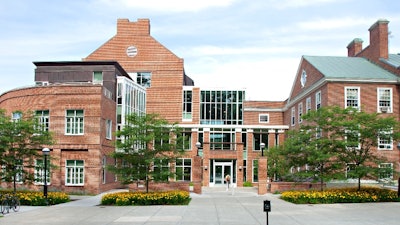 Thayer School of Engineering
HANOVER, N.H. (AP) — Dartmouth College has received a $25 million gift that it hopes will launch a significant expansion of its Thayer School of Engineering.
The donation is the largest in the engineering school's history and comes from Barry MacLean, a 1961 graduate. Fifteen million dollars will go toward the design and construction of a 180,000-square-foot engineering building, with $10 million being used as a challenge grant to create endowed professorships at Thayer.
The proposed $200 million expansion is contingent on private gifts to cover the cost. It follows a large increase in the number of students majoring in engineering in the last decade and a half. This year's senior class has 110 engineering majors, the largest in the school's history.
Officials hope to add faculty with a focus on the fields of energy, engineering in medicine and entrepreneurship. Other goals include creating diverse teams with research expertise and making innovative learning opportunities available to both engineering students and non-engineering students.
MacLean is CEO of MacLean-Fogg, a manufacturer of engineered products for automotive, truck, electric power, and telecommunications businesses.
"I believe deeply in the school's mission and how the skills gained at Thayer can help prepare all students for their lives," he said. "I firmly believe every Dartmouth undergraduate should experience Thayer."