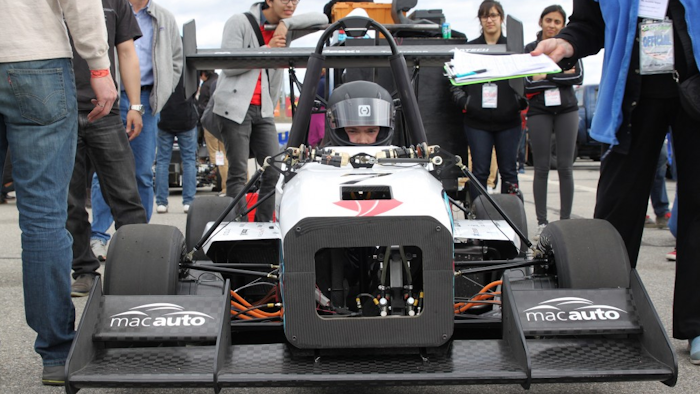 Formula Hybrid
LOUDON, N.H. (AP) — Dartmouth College is launching its 10th annual Formula Hybrid Competition at the New Hampshire Motor Speedway.
College engineering graduate and undergraduate students race electric and hybrid cars they designed. The competition runs Monday through Thursday and spectators are welcome.
The Formula Hybrid Competition is run by Dartmouth's Thayer School of Engineering. Twenty-eight teams from colleges around the world are registered to compete, including the contest's first all-female team — the 16-member Hot Wheelz — from the Rochester Institute of Technology.
Hot Wheelz team members and their adviser scoped out last year's competition and caused quite a buzz, technical adviser Martin Schooping said.
"I don't think we were there an hour and everybody at the place was talking about the all-girls engineering team," Schooping quipped.
Last year's competition featured teams from universities in Canada and Bangalore, in addition to U.S. competitors.
Cars are judged on design, acceleration, handling and endurance, as well as energy efficiency and sustainability of materials used.
Organizers say the best day for spectators to visit is Wednesday, when the autocross and acceleration events are run from 10 a.m. to 3:30 p.m. That day is also Formula Hybrid School Day, when students from middle schools and high schools are given guided tours by volunteers from the New England division of the Society of Automotive Engineers.
Admission is free.