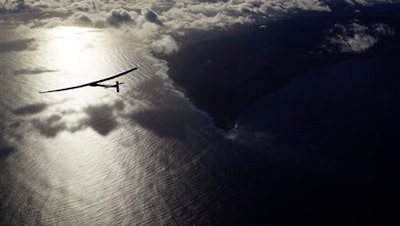 Jean Revillard/Solar Impulse via AP
KAPOLEI, Hawaii (AP) — At 8:15 am local time, a solar-powered airplane on an around-the-world journey was about a third of the way from Hawaii to California.
The project's website says the Solar Impulse 2 aircraft is nearly 23 hours into a three-day flight over the Pacific with solo pilot Bertrand Piccard at the controls.
A live image from the plane (view in gallery) showed the first light of dawn on the horizon.
The aircraft's wings are covered with solar cells to take energy from the sun to power the motors turning its propellers. During darkness it relies on energy stored in batteries.
The aircraft's destination on this leg of the journey is Mountain View, California, at the southern end of San Francisco Bay.
The aircraft started its journey in March 2015 from Abu Dhabi, the capital of the United Arab Emirates, and made stops in Oman, Myanmar, China and Japan before reaching Hawaii.