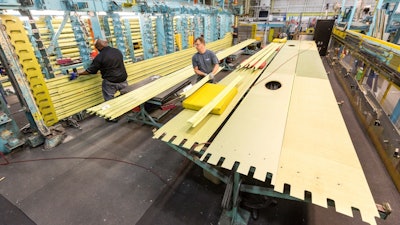 Todd R. McQueen
The first Lockheed Martin LM-100J commercial freighter aircraft has reached major production assembly milestones at Aeronautics sites in Marietta, Georgia, Meridian, Mississippi, and Clarksburg, West Virginia.
Wing production has begun in Marietta, which is home to the C-130J Super Hercules final assembly line, while other structural parts are in production at the Meridian and Clarksburg facilities.
The LM-100J is the civil-certified version of Lockheed Martin's C-130J Super Hercules and an updated version of the L-100 (or L-382) cargo aircraft.
"Watching the LM-100J move from concept to reality is monumental for everyone involved, including our team members, industry and our customers," said George Shultz, vice president and general manager, Air Mobility & Maritime Missions at Lockheed Martin.
Lockheed Martin officials submitted a Program Notification Letter to the U.S. Federal Aviation Administration (FAA) on Jan. 21, 2014, for a type design update for the Lockheed Martin Model L-382J airplane, a civil-certified variant of the C-130J Super Hercules to be marketed as the LM-100J.
The LM-100J is expected to make its first flight in 2017, then enter into an FAA certification phase.
Through select design innovations, the LM-100J will perform as a commercial multi-purpose air freighter capable of rapid and efficient cargo transport.
The LM-100J is an ideal airlift solution for delivering bulk and oversize cargo, particularly to austere locations worldwide. Like its military counterpart, the LM-100J will be able to support multiple missions, ranging from fire fighting to medevac to VIP transport.
The LM-100J incorporates technological developments and improvements over the existing L-100s that result from years of C-130J operational experience, including more than 1.3 million flight hours by operators in 16 nations.
The result of this experience and advancement translates to an aircraft that will deliver reliable service in a multi-role platform for decades to come.