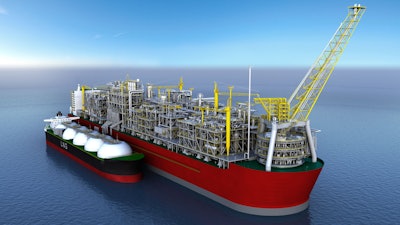 Shell
GE Oil & Gas has started production of four high pressure, high temperature (HP/HT) dynamic flexible risers destined for the world's largest floating liquefied natural gas (FLNG) facility, Prelude, to be operated by Shell, located 250 km off the coast of Western Australia.
FLNG is a revolution in natural gas production that promises to improve the viability of smaller, more remote or environmentally-sensitive fields that would otherwise be too costly or difficult to develop. Working together to unlock these vital resources, GE has partnered with Shell on the project since 2011, following an initial order for turbomachinery equipment.
The two companies have since collaborated on the subsea flexibles scope to ensure that the raw materials and proposed end-product are qualified in accordance with the project's stringent quality and technical requirements, a coordinated effort that led to Shell Australia awarding a multi-million dollar contract to GE in April 2014.
GE will complete manufacture of the flexible risers at its facility in Newcastle, UK, where it has invested more than $21 millino to expand its production carousel capacity, enhancing manufacturing capabilities and equipping the site with the ability to accommodate larger diameter risers, which can be produced and delivered in optimum single lengths.
The new carousel bays were officially opened in April 2014.
Andrew Atkinson, Commercial Director, Asia-Pacific and India at GE Oil & Gas, said, "Despite the industry downturn continuing to affect the LNG market, long-term we believe FLNG has the potential to evolve into a promising segment, particularly in the Asia Pacific region, where there are areas of high energy demand and the presence of large-scale offshore gas fields. Notwithstanding that, investment in HP/HT technologies should be viewed as critical for both operators and the supply chain looking at exploiting ever-more challenging environments."
The result of GE Oil & Gas' product development efforts is a high-technology system designed to meet multiple challenges, from the need for a long-service life, high pressures, high operating temperatures, the potential for cold shut-downs and rapid depressurization, as well as the requirement for the risers — in this instance specifically — to remain connected and survive a 1-in-10,000-year cyclonic event.
Once manufactured, the flexible risers will be packaged onto purpose built large-diameter reels and transported more than 11,000 kms between Newcastle and South East Asia in readiness for subsea installation.
GE's project teams for Prelude are based between Perth, Australia, and Newcastle for the subsea equipment scope and Florence, Italy for the manufacture and supply of two steam turbine-driven compressors, vital elements for the liquefaction process.