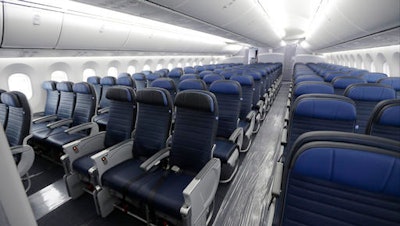 AP Photo/Ted S. Warren, File
WASHINGTON (AP) — The Senate refused Thursday to come to the aid of airline passengers squeezed by the ever-shrinking size of their seats.
An amendment by Sen. Chuck Schumer, D-N.Y., would have blocked airlines from further reducing the "size, width, padding, and pitch" of seats, passengers' legroom and the width of aisles. "It costs you an arm and a leg just to have room for your arms and legs," Schumer said.
The amendment also would have required the Federal Aviation Administration to set standards for the minimum amount of space airlines must provide passengers for their "safety, health and comfort." Airlines would have had to post the size of their seats on their websites so that consumers could take the information into consideration when buying tickets.
The proposal failed on a vote of 42-54, with all but three Democrats in favor and all but one Republican against.
Economy-class airline seats have shrunk in recent years on average from a width of 18 inches to 16.5 inches. The average pitch — the space between a point on one seat and the same on the seat in front of it — has gone from 35 inches to about 31 inches. Many airlines are charging passengers for extra legroom in amounts that used to be standard.
No senators spoke against the proposal, but airlines opposed to the measure have accused lawmakers of trying to "re-regulate" an industry that has been deregulated since 1978.
The vote was the Senate's last this week. Shortly afterward, many senators left to board planes to fly home to their states.
Democrats were quick to capitalize on the vote in an election year. Within hours, the Democratic Senatorial Campaign Committee sent out news releases chastising GOP senators from Arizona, Illinois, Missouri, New Hampshire, Pennsylvania, Iowa and Ohio who are facing Democratic challengers this fall for siding with the airline industry over passengers.
The Senate is considering a bill to renew FAA programs, due to expire July 15, through Oct. 1, 2017. The bill also contains aviation policy provisions that lawmakers have been working on for more than four years, including greater access for drones to the national airspace and protections for airline passengers chafing at fees for basic services such as checked bags and ticket changes.