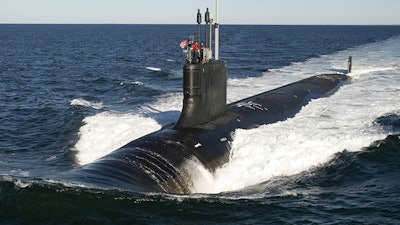 GROTON, Conn. (AP) — The U.S. Navy has chosen General Dynamics' Electric Boat to be the prime contractor for a new class of ballistic-missile submarines.
The Navy announced the selection and released an outline of its decade-long submarine construction strategy Monday night. Electric Boat is already designing 12 ballistic-missile submarines to replace the current fleet of 14.
Groton, Connecticut-based Electric Boat will perform about 80 percent of the construction work for the ballistic-missile submarines, according to U.S. Rep. Joe Courtney, a Connecticut Democrat. Newport News Shipbuilding in Virginia will do the rest. The shipyards build two Virginia-class attack submarines annually under a teaming agreement.
A Navy statement says both shipbuilders will continue to build the attack submarines, though Newport News Shipbuilding will begin delivering more of them. The Navy is also now proposing to build two attack submarines instead of one in 2021, the year construction is scheduled to begin on the ballistic-missile submarines.
Courtney said the Navy has emphatically declared its submarine construction priorities and now has a plan for achieving them. The strategy means billions of dollars and thousands of jobs for southern New England, he added. "There's going to be a lot of work and a lot of hiring," said Courtney, who noted that Electric Boat offered jobs to nearly 150 people at a job fair this month.
Congress would need to annually approve the construction funding. Some have been critical of the roughly $100 billion price tag to replace the ballistic-missile submarines.
Electric Boat employs about 14,100 people, mainly in Connecticut and Rhode Island. Employment is projected to grow to 18,000 by 2030 to build the ballistic-missile submarines.