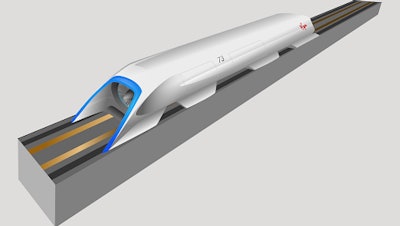 Wikimedia
LAS VEGAS (AP) — Nevada officials authorized $9 million in tax incentives to a California company set on testing a super high-speed, tube-based transportation system, saying the development was on par with the Wright Brothers' first airplane flight.
The board of the Nevada Governor's Office of Economic Development approved an application Friday from Hyperloop Technologies, which wants to build its Safety, Test and Development Loop at Apex Industrial Park in North Las Vegas. Gov. Brian Sandoval said the technology, which would shuttle people and cargo in pods at speeds around 700 mph, is transformational.
"That is the Kitty Hawk moment," Sandoval said about the pod's planned maiden voyage. "I would put that on that level. This is huge."
The full-sized project comes as the company is already building a smaller test track at Apex, the park that's also home to electric carmaker Faraday Future. The incentives mainly involve reducing the sales tax rate the company will pay on $120 million in capital investments, from about 8 percent to 2 percent.
Tesla CEO Elon Musk first theorized about hyperloop technology, which aims to use vacuum tubes to transport freight and passengers in pods at rapid speeds. Several companies are working to make the idea reality.
Sandoval volunteered to be the first person to take a ride in a pod when the technology is ready. Testing at the track is expected to begin at the end of 2016.
"I'm about as excited about this deal as you can possibly imagine," said Steve Hill, director of the Governor's Office of Economic Development. "I'm looking forward to see the governor take that first ride."