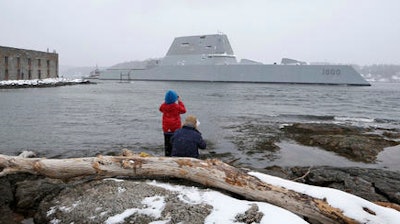 AP Photo/Robert F. Bukaty
The Navy is still considering putting an electric-powered gun aboard a Maine-built destroyer, but the futuristic weapon would be installed after the ship is built, a top Navy officer said.
The construction schedule is too far along to install an electromagnetic railgun aboard the Lyndon B. Johnson at Bath Iron Works, "but it's certainly an option after the ship leaves the yard," said Rear Adm. Pete Fanta, director of surface warfare.
Fanta proposed skipping the step of putting a prototype weapon aboard another ship this year and instead putting an operational gun aboard the Lyndon B. Johnson.
No decisions have been made.
Railguns use pulses of electricity to fire projectiles at six to seven times the speed of sound, producing enough kinetic energy to destroy targets.
It's one of several technologies the Navy is considering to increase firepower at a lower cost than missiles. Fanta said it's an engineering race to discover the best system.
"The way we put it to the research and development team is, 'You've got to earn your way aboard,'" Fanta said. "I want to make sure I'm not putting a science project aboard. I want to make sure I'm putting a war-fighting effort on board."
The Lyndon B. Johnson is the third and final destroyer in the Zumwalt class under construction at Bath Iron Works, a General Dynamics subsidiary.
The destroyers make an attractive platform for a railgun, laser system or other energy-based weapons because it uses powerful marine turbines to help produce up to 78 megawatts of electricity for use in propulsion, weapons and sensors.
Bath Iron Works had no comment Tuesday, deferring questions to the Navy.
John Portela, a shipyard worker, said he was not surprised by the admiral's comments. Installing a railgun at the shipyard would mean a major redesign, he said. Such upgrades are often completed during post-shakedown work elsewhere, he said.