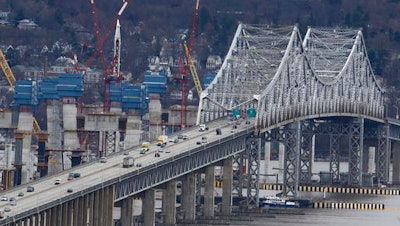 AP Photo/Julio Cortez
State lawmakers are considering budget proposals from Gov. Andrew Cuomo to use $1 billion from settlements with financial institutions to help the authority pay for a budget-busting replacement for the Tappan Zee Bridge and for toll tax credits.
If approved, it would mark the second year in a row such settlement funds have been tapped by the Thruway authority, following a similar $1.3 billion transfer last year.
The governor's plan to use about a third of this year's settlement money for toll credits has come under fire from lawmakers and outside critics, some who say an operation once flush with revenue shouldn't be subsidizing tolls with a one-time pot of money.
"It's hard to imagine a situation in which politicians don't feel they have to find a way to keep subsidizing those tolls," said Carol Kellerman, president of the Citizens Budget Commission, an independent research organization.
The Thruway plan taps into settlement money collected from financial institutions over practices that led to the national housing crisis and recession.
The current proposals being considered by state lawmakers would devote $700 million from the settlements toward the $4 billion Tappan Zee replacement bridge across the Hudson River north of New York City and other infrastructure, enabling a toll freeze for the Tappan Zee and the rest of the Thruway through 2020. Another $340 million transfer would fund toll credits for farmers and heavy users.
Gov. Andrew Cuomo, in announcing the plan earlier this year said it was a major investment in upstate New York, parts of which have been in a long economic funk.
Cuomo's budget spokesman Morris Peters said this week that "We make no apologies for our plan to provide real relief to upstate drivers and using settlement funds for projects that would otherwise be paid for on the backs of toll payers."
This is different philosophy from the "self-sustaining" Thruway envisioned by its creators after World War II, with tolls paying off bond costs over decades. Gov. Thomas Dewey wrote in a 1950 message to the Legislature that the authority "will not cost the state one red cent," according to his papers at the University of Rochester Library. And early toll revenue came in faster than expected — a 1966 New York Times story on Thruway revenue was headlined "10-Year-Old Thruway is Waxing Rich of Tolls."
Thruway tolls were supposed to disappear by 1996 under a deal with federal officials engineered by U.S. Sen. Daniel Patrick Moynihan in 1982, but that never happened. By 1991, a task force created by Gov. Mario Cuomo and lawmakers recommended keeping the tolls, arguing that ending them could lead to higher taxes.
This also was the period when the authority became a sort of infrastructure piggy bank. For instance, it was given responsibilities for the Cross Westchester Expressway and the state canal system. The 524-mile canal system has become a notorious drag on the authority, costing $93.7 million this year.
Cuomo wants to relieve the Thruway Authority of its canal burden by handing off that responsibility to the New York Power Authority — a proposal cheered by truckers upset about their tolls subsidizing a canal.
New York Motor Truck Association President Kendra Hems said the proposed canal-switch and subsidies should be seen as early steps to resolving the authority's finances. She credits Cuomo for tackling the long-festering Tappan Zee replacement problem and believes the Thruway could return to self-sustainability eventually.
"It's not a quick fix," she said. "You're going to have to have some balance of short-term relief while you work toward the long-term solution."
Critics counter that the long-term solution is not clear. State comptroller Thomas DiNapoli released a report recently saying the budget leaves questions unanswered "regarding financing of the Thruway's long-term capital and operational needs." Kellerman argues the subsidies kick tougher decisions about toll rates down the road, when costs could grow.
Lawmakers seem willing to devote financial settlement money toward bridge costs, but are resisting Cuomo's proposed tax credits for heavy Thruway users. The Senate and Assembly both left them out of the one-house budgets approved this week as baselines for negotiations with the governor. The budget is due April 1.
The Thruway late last year named a task force to look at Tappan Zee replacement tolls, which drivers fear could rise well above the current $5 for cash payers. With the replacement bridge scheduled to open in 2018, the task force is waiting to see how the budget plays out before it meets.