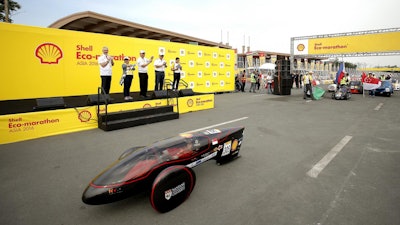 Shell
Undergraduates from Nanyang Technological University (NTU Singapore) won six awards at this year's Shell Eco-marathon Asia, an annual international race where teams from academic institutions compete on fuel efficiency and in innovation.
Held at Luneta Park in Manila, Philippines, two teams from NTU bagged four out of five off-track awards in this eco-car competition. They also won bronze awards in two electric vehicle categories where 117 teams from 17 countries competed.
With its six awards, team NTU emerged as the best performing university this year, turning in Singapore's best performance.
The two NTU teams, comprising 16 engineering students, took a year to build the cars at the Innovation Lab at the School of Mechanical and Aerospace Engineering.
NTU Venture 8, Singapore's first 3D printed urban solar electric car, won three off-track awards -- in Vehicle Design, Communications, and Safety.
The car also raced against eight other teams in the Urban Concept (Battery Electric) category to finish in the third position. It has also been selected to be among the five teams to compete in the coveted Shell Drivers' World Championship in London come July.
Team manager Ilmi Bin Abdul Wahab, 26, a final-year computer engineering student, said that the use of carbon reinforced 3D-printed parts and a unique torque vectoring system made the vehicle lighter and stronger, and more efficient at cutting corners.
He said, "With 3D printing technology, we are not only able to improve the car with customisable reinforced parts, but also ensure that there is minimal waste. The carbon reinforced plastic ensures that the car is as safe and strong as conventional ones on the road."
NTU Venture 9, a three-wheel racer weighing 44 kg, finished in third place against 14 other cars in the Prototype (Battery Electric) category.
The racer, with hand-made contoured silicon solar cells to maximize the harvesting of solar energy, also clinched NTU's third Technical Innovation award, impressing the judges with its elegant and custom-made improvements which enhanced the safety of the vehicle and driver.
Team manager of the three-wheeler team Foo Shi Wei, a final-year mechanical engineering student, said, "We have improved the overall efficiency of the car by reducing its weight by about 25 percent through the removal of carbon fibre sheets in the wheels, as well as replacing certain parts with aluminium."
Associate Professor Ng Heong Wah, who mentored the two NTU teams, said the students went the extra mile and used innovative ideas to significantly improve the cars.
"Not only did the students use their engineering knowledge, they also went beyond what they learnt in their curriculum to find new ways to improve fuel efficiency and performance while ensuring the safety standards. With new teams joining the race every year, the competition gets tougher, and our win was so close that it was down to mere decimals. These awards are proof of the students' relentless perseverance, determination, and drive to want to do NTU proud."