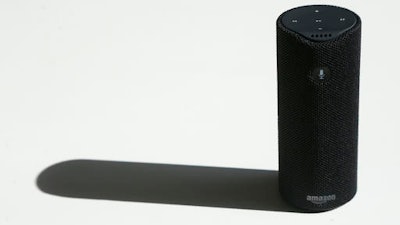 AP Photo/Jeff Chiu
Amazon.com is introducing two devices designed to amplify the role its voice-controlled assistant Alexa plays in people's homes and lives.
The products unveiled Thursday are echoes of Amazon's Echo, a cylinder-shaped speaker with Internet-connected microphones that became Alexa's first major showcase when it debuted in late 2014.
Both devices, called the Amazon Tap and Echo Dot, cost less than the $180 Echo and offer slightly different features in an attempt to plant Amazon's Internet-connected microphones in more homes and other places.
In doing so, Amazon hopes to outmaneuver rivals Google and Apple in their battle to build hubs in "smart" homes that are being furnished with appliances, electronics and other accoutrements that connect to the Internet.
Alexa is competing against other voice-controlled services such as Apple's Siri, Microsoft's Cortana and Google's search engine that are built into the operating systems of smartphones and other devices that do more than the Echo.
The interest in smart homes appears to be rising as more people become enamored with their smartphones. A recent online survey of more than 4,600 adults in the U.S. by Forrester Research's Technographics found 57 percent of them either had used or were interested in using a smart home device.
Alexa, a riff on the Library of Alexandria, initially didn't do much but answer trivia questions, play music and buy stuff from Amazon's website. The device's limited range raised the prospect that it might be a passing fancy or little more than a cute party trick for consumers who could afford to indulge in a curiosity like the Echo.
But the assistant has become increasingly versatile as Amazon.com Inc. learned more about what customers want. Last summer, the company gave outside programmers the ability to build applications that work with Alexa in a move that expanded service's skillset. Alexa can now perform more than 300 tasks, such as hailing car rides, turning on lights and controlling home thermostats.
The Echo now ranks among Seattle-based Amazon's top-selling items in consumer electronics, although the company hasn't specified how many have been sold so far. "The response has been nothing short of incredible," boasted David Limp, Amazon's senior vice president of devices.
The 6.25-inch Amazon Tap is a slimmed down "grab and go" version of the 9.25-inch Echo that sells for $130. Unlike the Echo, the Amazon Tap doesn't need to be plugged in.
To conserve battery power, however, the Tap requires people to touch a button on the front of the device to prompt Alexa to awaken and listen for a question or a command. The Echo operates on more energy-intensive technology that allows people to summon Alexa with spoken words that can be heard from as far as 25 feet away. The Tap connects to the Internet through Bluetooth or Wi-Fi signals.
The Echo Dot, priced at $90, represents Amazon's attempt to expand Alexa's household presence beyond the kitchen or another room where the Echo typically remains anchored.
The Dot is shaped like a hockey puck because it doesn't have cylinder with a large speaker. Instead, it offers an option for people to plug into other sound systems to provide better audio than the speaker built into the Echo. Interactions with Alexa through the Dot can be started with a voice command from across the room, just like the Echo.
Both devices can be ordered on Amazon.com beginning Thursday. Anyone can buy the Tap, but sales of the Dot initially are being confined to Amazon Prime subscribers who have already bought an Echo or the company's Fire TV device. Shipments will begin by the end of March.