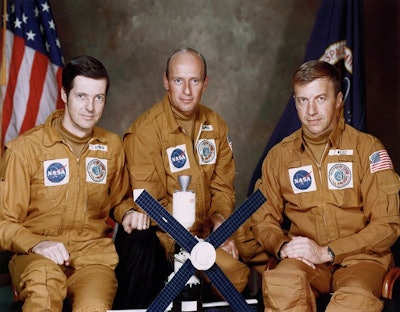 NASA
An unusual sentence appeared in the obituary for Thomas Pia when he died about a year ago, similar to one that appeared this month in the obituary for his brother, Alphonse.
It said that the Stamford, CT siblings, both tailors who lived into their 90s, once made suits for space. Astronaut attire.
It sounds far out, until you consider that the suits astronauts wore on the moon were made by Playtex, the women's underwear manufacturer that once had a headquarters in Stamford.
NASA was unhappy with the armor-like spacesuits proposed by military contractors and gave the contract to Playtex, where seamstresses hand-stitched them from 21 layers of delicate material, shaped for comfort.
Bras in space. Why not flight-wear from Stamford?
The Pia brothers' handwork launched into the cosmos from High Ridge Road, where they owned the Jerry A. Pia & Sons Tailor Shop. It was founded on Main Street in 1916 by their father, a master clothier trained in Italy.
The craft was handed down, said David Pia, one of Thomas' four sons.
"He was the oldest in an Italian family and there weren't a lot of options," David Pia said. "Your father's a tailor, you're a tailor."
Under the eyes of his father, Thomas Pia became a master tailor himself, David said. In the 1960s he had some meticulous customers, including Fred Toerge, a New York design executive who lived in Stamford.
Thomas Pia made suits for Toerge. Earth suits. The kind businessmen wear to prestigious Manhattan offices.
Toerge worked for Raymond Loewy, the world-renowned designer of airplanes, trains, cars, furniture, cookware, appliances, fabrics, jukeboxes, the Coca-Cola bottle and more, including space capsules for NASA.
In 1968 astronauts were celebrities, and Toerge didn't want to be shown up.
"He came into my father's shop and said, 'You have to make me look good. I'm surrounded by these hero astronauts,'" David Pia said. "My father told him, 'When we get done with you, you're going to look better than the astronauts.'"
For Toerge, that sparked an idea.
NASA engineers had engaged Loewy's design firm when they were planning Skylab, America's first space station, to make it less like a cockpit and more like a home, since astronauts would live there for weeks at a time.
"Mr. Toerge told my father that the astronauts were upset because the uniforms they had for space were too heavy. They wanted them made out of a lighter material," said Jerry Pia, another of Thomas' sons. "Mr. Toerge asked my father, 'If we get you the material, could you make us one?'"
According to a Nov. 24, 1969 story in the Stamford Advocate, Thomas Pia began working on designs for astronaut flight-wear that year and came up with three — a one-piece, a one-piece with a jacket, and a two-piece.
David Pia remembers something about the prototypes.
"They had a potty flap in the seat of the pants so the astronauts could use the bathroom in space," David said. "My father put a patch on the flap, 'Eat at Joe's.' When you're 9, having a potty flap in your pants is funny enough. Putting 'Eat at Joe's' on it was just too much. We were hysterical. He sent it to Houston."
The suit was super-light, with a space-age zipper and loose pants that locked tight at the ankle so they didn't float up in zero gravity. Style mattered — NASA wanted the astronauts looking good when they emerged from the space capsule after splashdown in the ocean, a well-televised moment.
Thomas' other son, Charles Pia, said the suits were inspired by the time.
"That's when leisure suits were popular," Charles said. "It looked like that except with a trap door."
NASA chose the two-piece suit, which was tested in orbital workshops and modified slightly. Astronauts Charles Conrad, Joseph Kerwin and Paul Weitz wore it aboard Skylab in 1973. Two other crews wore the suit in missions later that year.
"My father put one on a mannequin in the store window and people would come in and ask if they could buy it to wear skiing," David Pia said.
Charles Pia also remembers his father making banners for the Apollo 12 lunar mission — one with the names of astronauts Charles Conrad, Richard Gordon and Alan Bean; one that flew over the astronauts while they were in quarantine after returning to Earth; and one for the building that housed the moon rocks they brought back.
"My father would bring the flags home at night because he had such a deadline," Charles said. "He worked on them by hand. I remember him sitting on the couch, putting them together."
A 1973 Advocate story reported that, after Thomas Pia's suit designs were accepted, he was asked to manufacture them. He declined. He also was asked to go to Houston to work on them but declined.
He hung up his space needle, and he and Alphonse continued tailoring suits for the earthbound. In 1980 Thomas Pia's house nearly burned down and all of his space mementos were lost.
Only the stories remain.
"My grandfather died just before the astronaut suit came to be," David Pia said. "My grandmother told us it was a shame because he would have been proud. He had told her that, as good a tailor as he was, my father was even better."