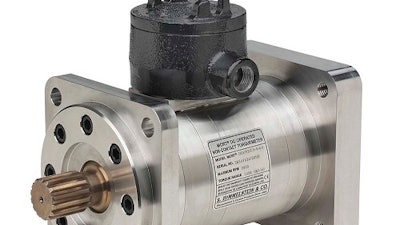 MCRT 38569X devices from S. Himmelstein and Company (Hoffman Estates, IL) are designed to accurately measure torque for control and verification of loads on liftboat support legs. They enable load monitoring during jacking operations and help maintain stability on uneven and shifting sea beds and strong currents.
These models have a standard splined shaft and mounting flange configuration. This simplifies mounting directly between the hydraulic or electric drive motors and pinion drive gearboxes on each leg's truss. The system transmits data via a two-wire 4-20 mA loop to the Control Room. Because the MCRT 38569X torque instrument measures the source load distribution directly it enables a significantly faster response time than other systems. This advance warning of any change or movement of weight helps prevent damage to decks and jacking equipment.
Because of its extremely high immunity to noise interference, high safety margins, and maintenance-free design, the MCRT 38569X has been certified by ABS to become a standard for oil field use.
www.himmelstein.com; 847-843-3300