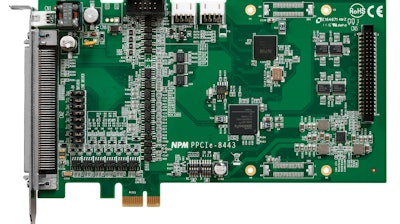 Nippon Pulse (Radford, VA) introduces its newest available controller board, the PPCIe8443. An upgrade from Nippon Pulse's previous PPCI7443 controller board, the new "PCI Express" board utilizes an updated PCI-express bus interface that can control up to 4 axes of coordinated motion.
PPCIe8443 comes equipped with Nippon Pulse's PCL6046 large-scale integration chip, and can generate high-speed pulses to control input-type servo and stepper motors. The PPCIe8443 allows complicated operations to be internally processed so your CPU's axis control load is reduced.
The PPCIe board is capable of up to four axes of linear interpolation, arbitrary two-axis circular interpolation, and continuous interpolation, as well as linear and S-curve acceleration and deceleration. It also features 13 types of homing, velocity and positioning override, and trigger output at a specified position with position comparison (FIFO).
This board also comes with utility software for application development, in which available information for all axes and signal statuses are displayed for convenient system debugging during a project's early stages. Function libraries are also available, as are definition files (for VC, VB and C # languages) and sample programs.
www.nipponpulse.com; 540-633-1677