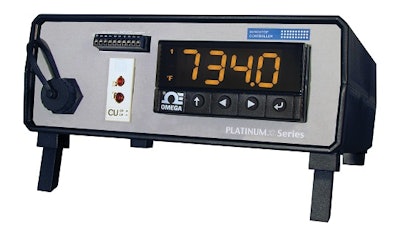 OMEGA (Stamford, CT) introduces the MDS8PT, a new universal benchtop unit that houses the exclusive PLATINUM Series 1/8 DIN digital panel meter. This easy-to-use panel meter has a large color changing LED display that is totally programmable at any set-point or alarm point to meet a variety of application needs. The OMEGA exclusive unit delivers accurate readings at a fast speed, and has the ability to handle 10 common types of thermocouples, thermistors, multiple RTD's, and several process (DC) voltage and current ranges. Additional features include:
Universal input with dual alarm relays.
Optional RS232/RS485 MODBUS communication.
Embedded Ethernet.

Applications in lab use, food processing and engine testing.
For more information, see the full spec sheet.
www.omega.com; 888-826-6342