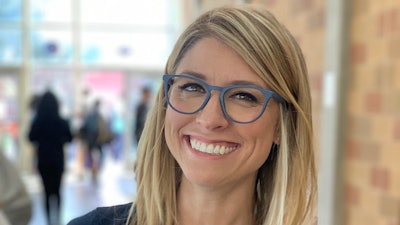 Founded in 2019, Santa Monica, CA-based Fitz Frames uses a mobile app and 3D printing to deliver what it states is a better, lower-cost eyewear option for kids. However, faced with new pandemic-related challenges in March, the company pivoted its focus to help support medical care providers with their Fitz Protect line of 3D-printed eyewear specially designed for healthcare workers requiring protection during long shifts.
We recently sat down with company founder Heidi Hertel to learn how this U.S. manufacturer was able to adjust to new needs in a challenging time.
Jeff Reinke, Editorial Director: What was the timeline for recognizing both the need and ability to produce these new glasses?
Heidi Hertel, founder, Fitz Frames: In late March, it became evident that the medical community was experiencing a significant shortage of PPE while treating patients with Covid-19. After evaluating our materials, printing equipment and multiple conversations with doctors and nurses in hospitals across the country, we determined that the best use of our technology and 3D printing capabilities was to produce tailor-made protective eyewear, in both prescription and non-prescription forms. We were able to design, test, refine and deliver Fitz Protect in only 10 days. Our first pair was used in early April by an OB delivering a baby at Mt. Sinai Hospital in New York.
JR: Have there been any changes to vendor relationships, purchasing levels or workflow to help facilitate production of the new glasses?
HH: We are fortunate to have amazing vendor partners who enabled us to produce and deliver Fitz Protect quickly, efficiently and affordably. Our leasing partner Farnam Street provided us access to an additional 3D printer and EOS, the manufacturer of our printing equipment, fast tracked additional powder to print the frames at a lower rate - both were crucial to help us keep up with order demands.
In addition, our lens fulfiller, Classic Optical, was also deemed an essential business by the state of Ohio, and worked around the clock to make sure our lenses were implemented in a timely manner with fewer staff on-hand while abiding by state staffing guidelines.
JR: Were there any capital investments made to help ensure operational efficiency?
HH: We invested in a third 3D printer to be able to keep up with demand for our regular optical business, as well to work through the over 4,000 people on our waitlist for Fitz Protect.
JR: What were some of the things you learned about your people during this process? In dealing with the pandemic as a whole?
HH: We were reminded of what an amazing team we have at Fitz.
Katie Brandeau and Nate Sawyer worked in tandem to design, model, print and get these glasses into the hands of doctors and nurses as quickly as possible to protect as many lives as they could. Our CEO Gabriel Schlumberger spent hours on the phone with hospitals, on top of the hours he spent figuring out how to keep our regular business running smoothly, in order to meet the needs of the medical community and prioritize glasses to those who needed them most.
Our Head of Marketing Danielle Lopez and Customer Service Rep Ishmael Vidal worked tirelessly answering questions from healthcare workers to make sure they understood the process and assisted with troubleshooting any issues people had using the app. And our Head of Manufacturing Will Hallewell was a one-man manufacturing show, isolating from everyone he could and sleeping at the office at times to make sure there wouldn't be any interruptions in producing this gear.
It was truly an extraordinary, all-hands on deck effort and included our generous donors who underwrote over 1,000 pairs of Fitz Protect so we could deliver these to healthcare workers for free. This experience was very stressful and exhausting, and honestly brought out the best in our team as employees and human beings.
JR: Are these PPE offerings something you'll continue to offer into the extended future?
HH: While we hope the need for PPE is only temporary, we will continue to offer Fitz Protect as long as it is needed. We will continue to refine and develop new protective eyewear designs depending on future demand and uses.
JR: What is the state of your core business?
HH: Fitz continues to deliver glasses to everyone ages 3 and up. Our standard glasses have also seen an uptick in demand, as folks continue to shop from home. Blue light filtering glasses have also been increasingly popular as people are working remotely and spending more time on screens.
JR: Were there any "best practices" picked up from this experience that can be utilized going forward?
HH: We've definitely increased our use and frequency of face-to-face calls in order to keep a stronger connection as the team works remotely. Prioritizing regular team calls has been crucial to staying in touch and making sure nothing gets lost in the cracks of everyone's busy days. Our monthly All Hands Meetings and new happy hours have never been so important to keep our team connected, engaged and motivated.
JR: 3D printing has been at the forefront of a number of COVID-related product developments. What advice would you offer to manufacturers looking to invest in 3D printing?
HH: Make sure you work with vendors who are able to give you the support you need as your business changes and an internal team who has the talent and skill to use this technology to its full advantages.