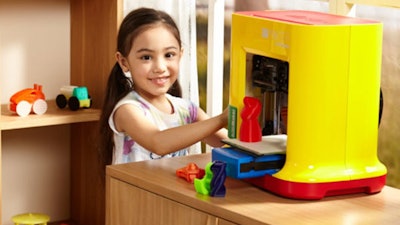 XYZ Printing
Christmas is just around the corner, so what better time to look at the best STEM (Science, Technology, Engineering and Math) toys of 2016? These are great gift ideas for your young engineer, product developer or budding entrepreneurs and they are a great way to inspire children to engage with science, technology, engineering and mathematics.
Just like with the toys of 2015 list, I tried to focus on some really innovative toys and games that are a little out of the mainstream but which press all the right magic buttons.
Da Vinci Minimaker
3D printing is here to stay, but the technology and its application can still be a little intimidating for some. It need not be, especially when you can get kids up and running with the fun and easy-to-use Da Vinci Minimaker from XYZ printing. The printer uses only environmentally-friendly, bio-degradable plastic that's recyclable, and they also provide simple CAD drawing software with thousands of online models to help you start printing right out of the box.
What's more, they actively engage students and teachers by offering course curricula with all kinds of downloadable games, projects and more that are designed to challenge every learning level.
Snap Circuits
I mentioned Snap Circuits briefly last year, but since then the kits have not only expanded but they've now gone into another dimension – up! Basic electrical circuitry is so important in many disciplines and it's great fun to learn how simple devices from daily life actually work, from alarms to light projectors to musical keyboards and much more.
The kits are modular, meaning they can be expanded indefinitely or added to with other kits. Like many of the best STEM toys these days, there is online support with project plans, updates, games and more for educators and science students. Large, easy-to-handle color-coded elements are safe and make new electrical circuits a snap.
UGears
From the Ukraine comes UGears, a series of constructable mechanical marvels made entirely from CNC-cut wood panels and powered by coiled rubber bands. This is an ideal introduction to the world of mechanical engineering. Moving piston engines, reversible gearboxes, active suspension and hinged doors are just some of the complications to be found in their 17 different models.
Simple instructions walk you through every step of construction, but there are still enough challenges here to teach the important skills of manual dexterity and a respect for the classical foundations of mechanical movements.
Happy Atoms
If that's a little too old-school for you, we're perfectly aware that most kids these days are fully tuned into the digital world. But fear not, there are some very innovative toys out there which seamlessly combine the digital and analog. The gamemakers at Thames and Kosmos have any number of award-winning toys that focus on making robots, learning computer coding or building your own telescope.
But the foundation off all the physical sciences, and thus for the applied sciences of engineering, is grounded in knowledge about the smallest of building blocks – atoms and molecules. How to get kids to care about and even have fun with chemistry and physics? Well, Happy Atoms is a great start. A set of 50 atomic models, representing 16 different elements, can be combined with flexible stalks and magnets in any number of ways to form new chemical compounds.
But which compound? Using your smartphone or an iPad, you can take a picture of your molecule and a proprietary app scans it and tells you what you've got. It also tells you the chemical properties, uses, hazards and more. Tens of thousands of molecules are in their database. With online tutorials, teacher's aids, plug-ins and more available to help expand your chemistry knowledge, this could be the start of a lifelong fascination with the physical world.
Makey Makey
The brainchild of two MIT grad students in electronics engineering, the Makey Makey is a 2016 finalist for Toy of the Year. Like so many great toys the idea is incredibly simple. A control board with several open electrical terminals is plugged into the USB port of any computer via one wire, while separate wires go from the terminal connection of your choice to an alligator clip at the other end.
Where's the fun in that? You can attach the alligator clips to any conductive surface that you want, and when you touch or tap that surface the controller will interpret it as if you touched your computer's space bar, or the enter key or an arrow, all depending on which terminal you plugged your wire into.
This means you can turn hundreds of ordinary household items into computer keyboards. And using freely available online game software, those same taps can now become the interface for playing online pinball, strumming a harp, banging on the bongos or blowing a mean sax. You'd be surprised at how many unusual materials can be made conductive, including blades of grass, pencil lines on paper, or bananas. The possibilities are limitless, but it's all about inventing from everyday objects.
These gift ideas are easy to use, inspire the imagination, and invite people of all ages to get involved, rather than being merely spectators.
Gordon Styles is the founder and president of Star Prototype.