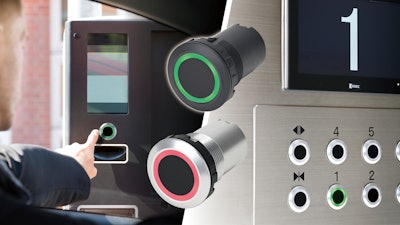 IDEC
World events have created a new sense of urgency for people to minimize touching objects in their environment. This concept is not lost on machinery and equipment designers, who must find innovative ways of providing user interfaces, while addressing cleanliness concerns for protecting against COVID-19 and other forms of contamination.
Many types of commercial, industrial, and publicly accessible equipment require pushbuttons so users can interact with these electronically operated systems, but traditional electro-mechanical designs require significant user contact. A better option is now available in the form of low-profile touchless switches (Figure 1).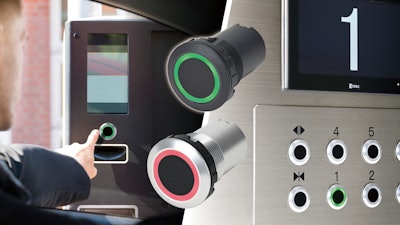 Low-profile touchless switches incorporate electronics to perform the sensing function, so no moving mechanism is required. They can be nearly flush, and because there is no physical contact or movement required, they are extremely durable and have a long operational lifetime, reducing the total cost of operation.
Touchless devices mean there is no need for users to wear and dispose of gloves—or even wash their hands after operation—and touchless switches eliminate the need for sanitization or using protective films, which saves labor and chemical/material costs.
Touchless Tech
Touchless switches use intelligent electronics to function, which means they can also include smart indication, such as a visible LED indicator ring. The design of one leading technology incorporates a switch front face with a central emitter and receiver sensing lens, using infrared LED diffuse reflection technology to detect objects (Figure 2).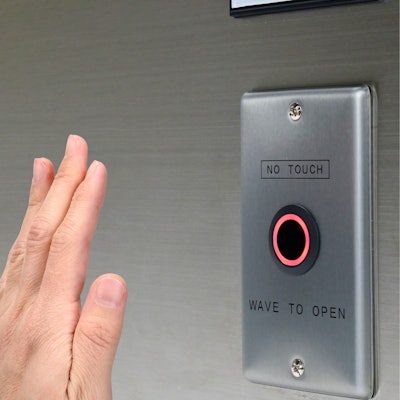 The detection distance is adjustable, typically ranging from 70 to 270mm depending on the reflectivity, and on the color, material, and surface condition of the object to be detected. For example, dark gloves can be detected, but at a shorter distance than a bare hand. One concern to be aware of is that when two switches are installed close together, their emitting frequencies could interact and interfere with each other, so the switches must be able to automatically adjust themselves for mutual interference prevention, ensuring the switches do not trigger each other.
For interfacing with higher-level electronics and computing systems, the switch output should be a solid-state non-contact optically isolated relay for the longest possible operating life. An additional feature users should look for is for this switch output to be available either without a timer or with a 0.5s on-delay and a 2.0s off-delay. The latter option provides a more reliable detection window for certain types of supervisory systems to guarantee that a switch activation is detected. Users should also choose devices able to operate at an industry-standard nominal 12 to 24V DC with 100mA max load current, and with reverse connection protection included.
Users appreciate clear status feedback that a switch activation has occurred. This can be accomplished with a two-color LED ring, which can be controlled by the control wiring or an external controller to illuminate in red or green. Two colors can be used to identify different conditions, or the standby/actuated status.
Keeping a Low Profile
The solid-state nature of touchless switches, with no moving components, means these devices can be designed with a very sleek and nearly flush low-profile silhouette, while requiring very little depth behind a panel face.
Designers should look for touchless switches built for installation in industry-standard 22mm mounting holes, suitable for outdoor use, and with mounting provisions so they can maintain IP65/57 and UL Type 4X ratings. These devices may be available in black plastic resin or a silver aluminum alloy metal, which can meet the needs of most applications.
Although touchless switches designed in this manner are highly robust and resistant to visible light, it is possible that excessive exposure to ultraviolet rays from direct sunlight can cause a degree of material degradation, and possibly even false signaling. In addition, dirt and water droplets can impact operation, as with any type of signaling device. Therefore, designers need to review product specifications and performance information, and then consider the appropriate degree of physical protection needed.
Clean Applications Abound
While the recent pandemic has elevated worldwide awareness about cleanliness and hygiene, there have always been major manufacturing and process industries—including food, beverage, pharmaceutical, medical, chemical, and others—where sanitary design is essential. Common consumer applications such as elevators, ATMs, vending machines, and more also use pushbutton interfaces.
For all these applications and more, touchless switches provide a high-performance interface to operational electronics that contributes to the well-being of users, while eliminating the costly sanitation, disinfection, and sterilization procedures often required with traditional devices.
---
About the Author
Luiz Shida is a Marketing Specialist at IDEC Corporation and responsible for safety product marketing. Since joining IDEC Japan HQ more than seven years ago, he has become certified as a safety sub-assessor in Japan, and he is a specialist in safety products.