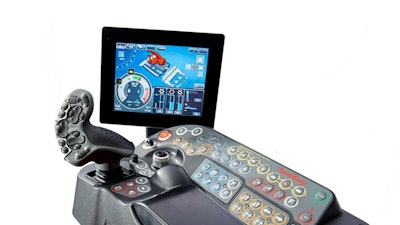 Vehicle technology is extremely diverse. From traditional motor vehicles to tractors to specialty snow groomers, everything that drives needs a suitable, and often customizable human machine interface (HMI). Whether on-road or off, HMI systems must combine high reliability and long operating life with appropriate actuation feel and user feedback.
As technology continues to progress and take over more functions from human operators, intuitive and safe operation becomes more important. In this context, the joystick has a central role in modern control landscapes, since there is no better link between man and machine for many applications.
Setting out from its use in game pads, the joystick captures entirely new fields of application. There is a huge variety of potential applications wherever intuitive operation, ergonomic design of the controls, safety and robustness are important.
In agriculture vehicles, such as tractors, HMI user-friendliness is a top priority. However, individual requirements are much more varied, and must be customized to meet the OEMs requirements. After all, different devices have to be controlled depending on the field of application.
For example, different tractor equipment attachments and accessories must be individually controlled depending on the specific application. This is why HMI panels are often used in modern tractors, which combine industrial touchscreens with joysticks, command devices and membrane keypads.
HMI systems are also built into custom armrests to offer advanced control. Haptics and ergonomics play a central role in the development of these HMI systems. Advanced HMI armrest systems, like the SmartTouch facilitate simple operation to the user and provide maximum input reliability, economic efficiency and freedom of design to the manufacturer.
The Finnish tractor manufacturer VALTRA received the Red Dot Design Award 2017 for its SmartTouch armrest. The armrest was developed in cooperation with RAFI and is produced at RAFI for VALTRA. It is a core feature of VALTRA's new S series tractors. RAFI relies on the zero wear 3D Hall sensor system for its JOYSCAPE joystick products.
This makes it possible to design compact systems that are extremely reliable at the same time, with at least 5 million operations. The zero-wear 3D Hall sensor system can also be designed as a redundant sensor system for applications with extremely high safety requirements.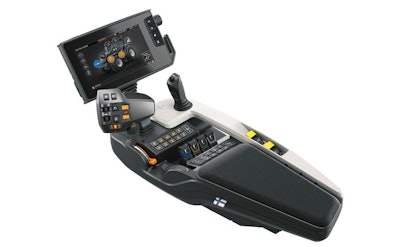 In special vehicle construction, the key issues are similar: safety, ergonomics and usability - with a high degree of individuality. This is easy to explain: a snowcat used to prepare snow parks in the ski area has completely different requirements for an HMI than a snow plow for clearing the regional traffic arteries.
With these mobile machines, customer-specific development is the rule. Whether joysticks, touchscreens, command devices or keyboards are used is decided here in close consultation with the customer. But here too, combinations of many different elements are usually used.
In AEBI snowplow/gritter, the RAFI system controls the plough blade, the grit distribution unit, and the sprayer. It consists of a capacitive touchscreen, mechanical input and output units, RAFI joystick, and RAFI short-travel keyboard on a back-printed and therefore hardwearing overlay.
Conclusion
Systems with joystick prove their value in agricultural machines and trucks, in excavators and forklifts, in commercial vehicles, cranes and many more vehicles. RAFI designs customer-specific HMI systems with integrated buttons, rocker switches, rotary encoders, joysticks and LEDs as required. Therefore customers can be sure to receive the exact solution required to optimize performance.