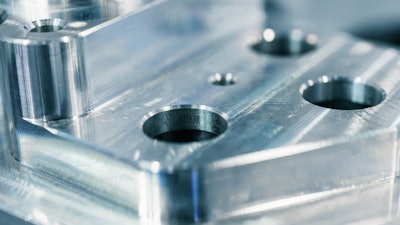 iStock
Converters and manufacturers face a variety of issues when planning a new die project:
Identifying a prototype vendor that can also produce the die
Juggling multiple suppliers
Working to find a complete system of modules and solutions in addition to the right die(s)
Obtaining the appropriate die and press accessories
Conforming to engineering best practices
Requesting and receiving R&D support
Experiencing ongoing expert technical support throughout the lifecycle of the die
It's much more than just dies.
Converters and manufacturers need a holistic approach – an expert that can not only design a prototype and craft a die for production, but also build a system for it, find the cost per unit, and identify the best converting feature design. Often companies will obtain a prototype from one vendor and then have to find another vendor to produce it, which might be a competitor, wanting to change the die/pattern/process after it has already been validated. Moving from a prototype vendor to a production vendor could mean design changes, delays and more costs.
Having a comprehensive solution, a one-stop shop, avoids problems before they appear. It's critical for die makers to look beyond the initial customer to their downstream customers, thinking beyond the tool to the end user.
Often, die customers require multiple technologies, from low-end presses to high-end runners, or both rotary and flat dies, plus repair services. Working with one vendor that can offer a variety of solutions and die types results in an improved customer experience. A strategic approach involves looking for the right match that can offer a solution from the concept of the product to the concept of the packaging for the consumer interface – what's marketable and beautiful – to logistics to get the entire bundle into one carton for distribution.
Services and Expertise to Look For
Converters and manufacturers looking for die cutting expertise and holistic solutions should look for a vendor that can deliver a wide variety of services under one umbrella:
Prototyping
Die design
In-house heat treatment
Deep cryogenic treatment
Machine sharpening
Die resharpening, reconditioning and repair
Recycling/sustainability measures
Vendors with experience across industries and markets can match customers' converting needs. Look for tool and die suppliers with expertise in your specific industry, whether it's food & bev, aerospace, CPG, automotive, life sciences, etc.
Technical Support
In the search for the best die cutting experience, look for vendors that offer technical support teams with broad expertise. These should be seasoned professionals, deployed onsite, for example, to follow the tools, work on increasing line speeds, improve changeovers, help with maintenance, and deliver general problem solving.
They should focus on how to make the customer's process better, cheaper, and faster. Their goal should be to establish best practices, set up a foundation to correct defects, create guidelines and identify tools everyone can access. They work to make sure industry best practices, guidelines, technologies and applications are all aligned for the best outcome.
Once again, it's more than just dies – customers need a comprehensive and efficient solution, a one-stop shop, offering a full spectrum of product offerings and converting solutions across technology groups in the converting industry, from flat rule dies to rotary dies.
Erinne Sopko is the marketing director for IMPACT Converting & Systems Solutions.