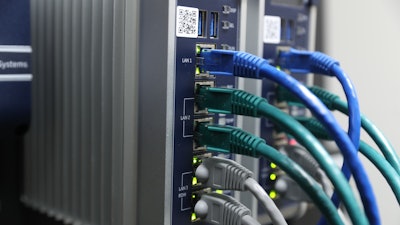 Emerson
Digital communications have been moving toward Ethernet for many years. While consumer applications focus on externally-oriented protocols, for industrial automation I/O networks one of the leading protocols of choice is the purpose-built PROFINET Ethernet communications protocol.
PROFINET was created to deliver interoperability, high performance communications, high availability architectures, and advanced diagnostics to help with troubleshooting. These features minimize downtime in operation, and help designers create robust plant-level input/output (I/O) networks which run reliably and are maintainable for the long haul. Programmable logic controllers (PLCs), programmable automation controllers (PACs), and edge controllers all need these reliable I/O networks so they can perform deterministic control.
The earliest industrial protocols relied on proprietary media and components, in part to guarantee performance. As industrial networking transitioned to the use of commercial Ethernet technology, it still was necessary to address the always-on need for automation systems while guaranteeing performance. Here is why PROFINET is such a good fit for industrial I/O networks.
Enabling Best of Class Connectivity
Automation systems for industrial machines and equipment rely on connecting controllers to hardwired field devices like sensors and actuators via I/O modules. Controllers also connect with more intelligent and capable I/O devices like variable frequency drives (VFDs) and smart pneumatic solenoid manifolds.
These devices are often Ethernet-capable, and may be located in a protected control panel or relatively exposed right out on equipment. Using an industrial standard like PROFINET, designers are freed to choose any combination of best-of-class I/O systems for their designs. They can pick panel-mount and field-mount versions of each device as needed to fit the application, even sourcing them from different suppliers, with a high confidence in their reliability and interoperability.
Always-On Networks
Industrial-grade I/O systems can be connected much like consumer-grade home networks with switches and cables in a star topology. The always-on performance demand of automation, however, quite often calls for more robust solutions than what is available using basic IT technology. PROFINET addresses these concerns with various levels of redundancy specially designed to provide uninterrupted communications.
Media Redundancy Protocol (MRP) uses a ring network configuration to provide communications recovery within a few milliseconds after networking loss due to a single cable, device, or switch failure. Users can design these networks with external switches to form a ring. Designs can be simplified for industrial controller and I/O systems, however, by incorporating on-board embedded multi-port switches right inside controllers and I/O devices so the ring can be created without external switches.
For the most critical applications, controller redundancy is often needed. This requires PLCs, PACs, or edge controllers which can be installed in pairs on an MRP ring (Figure 1 above). One controller is the primary, while the other controller is the hot-backup and is configured to take over seamlessly if the primary fails.
The Diagnostic Difference
Operators and maintenance personnel need to know quickly if there is trouble with an industrial automation I/O system. This is even important with systems configured with MRP and redundant controllers, because even though operation continues unabated after a single failure, the system may now be one additional failure away from an outage.
PROFINET includes diagnostics to help end users debug industrial I/O systems. Controllers can be proactively configured to recognize I/O failures and notify users. In certain cases, the controller may even be programmed to initiate an orderly shutdown. Even if there are no active failures, users can access diagnostic tools to gauge I/O network performance and system health, providing early indication of impending issues.

Industrial I/O Roadmap
PLCs, PACs, and edge controllers need plant-level industrial Ethernet I/O protocols like PROFINET because they deliver:
I/O interoperability
Redundant architectures
Helpful diagnostics
However, these features aren't the end of the line for PROFINET. A specified profile now makes it possible to easily share data between PROFINET and OPC UA networks. Another standard profile makes it possible to connect IO-Link smart discrete sensors to PROFINET. Time-sensitive networking (TSN) represents a set of networking standards for improving performance by minimizing latency to provide high availability data transmission over deterministic Ethernet networks.
PROFINET is the future path for users to create the highest performance I/O networks, able to support the most demanding applications such as motion control, while further improving their overall network capabilities, robustness, and security.
About the Author
Darrell Halterman (photo in gallery) is a senior product manager of PACSystems controllers at Emerson's machine automation solutions business, and he is also responsible for the portfolio's control solutions modernization strategy. He enjoys working with customers to find the right modernization strategy to enhance their existing control solutions with the latest advancements in automation.