iStock
Machine safety design is a detailed topic addressed by many regulations and standards, and it is also supported by numerous specialty products and practices. However, this doesn't ensure appropriate machine safety measures are always applied. But now, updated standards and new safety products are making it more convenient and less expensive for designers to incorporate machine safety measures in more aspects of their equipment, improving working conditions for workers worldwide.
For machinery original equipment manufacturers (OEMs), the ISO 13849 "Safety of machinery" standard provides requirements and guidance for designing and integrating the safety-related elements of control systems for all kinds of machinery. OEM design teams are familiar with this standard, but many tend to follow it in an overly cautious manner. In some situations, safety design may be compromised by perceived apparent complexity and cost.
To address this and other issues, updated standards and new safety products are improving implementation of machine safety measures. These provide more flexibility for meeting safety requirements and the associated safety products are easier to integrate, creating more opportunities to deliver machine safety. Here is how OEM designers and their customers can benefit.
Updated Standards
Understanding and following any type of standard can be a difficult undertaking. Standards organizations attempt to write for clarity, and the market produces products to meet the need, but it is up to designers to tie it all together.
The approach offered in ISO 13849 calls for a few design steps. First, designers must determine the required performance level (PLr) for the equipment or machinery, taking into consideration the possible severity of an injury, worker exposure, and whether the hazard can be avoided according to the Risk Assessment. The lowest PL is PLa and the highest is PLe; the higher the PL the more crucial the application.
In addition, ISO 13849 identifies categories of safety beginning at B and then ranging up through 1, 2, 3, and 4. Categories 3 and 4 require full redundancy, involving more complication and expense than lesser categories. Note that the category is also impacted by the diagnostic coverage (DC) rating of the system. This chart shows the relationship between categories, DC, MTTFd and PL (Figure 1).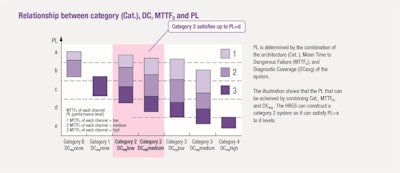 However, the wide variation of equipment types could result in designers following an overly cautious approach. For instance, they might be working with equipment rated as PLc, but believe they need to follow a category 3 approach. In the best case, a too-cautious safety understanding just adds complexity and expense. In the worst case, necessary safety measures may not be included based on the price, a misinterpretation of the requirements, or other grounds.

Fortunately, a 2015 revision of ISO 13849 has updated and clarified the requirements regarding category 2. Instead of mandating full redundancy as with categories 3 or 4, the update allows a more straightforward safety implementation where "testing occurs immediately upon demand of the safety function".
Because of this guidance, designers are freed to follow an approach using appropriate methods and components to provide safety in more situations.
Selecting Category 2 Components
Basic equipment automation must operate physical hardware like motors and valves as needed to accomplish machine functionality. When safety measures are integrated, various safety inputs such as from machine guards, emergency stop buttons, or other interlocks are monitored with interconnected components. Any safety activation causes the safety circuit to interrupt operation of the physical equipment, driving it to the safest possible state.
As noted previously, designs for category 3 and above call for redundancy of safety inputs, controllers, and outputs. When category 2 is acceptable, then only single input connections, less expensive controllers, and single outputs can be used (Figure 2). This significantly simplifies the design, encouraging implementation in more cases.
Category 2 safety saves money in many ways compared with more stringent designs. Design effort is reduced, the safety relay modules are more economical, fewer and less-specialized non-redundant devices can be used, control panel space is saved, and field installation labor is reduced.
Promoting Machine Safety
It is easy to see how machinery OEM designers are often challenged by the intricacy and interpretation of industry standards and regulatory agencies. In the most advanced countries this could push equipment to be more expensive and complex than necessary. In other situations, an overly conservative understanding of safety requirements could actually hamper the implementation of necessary safety measurements.
Due to some relatively recent changes to ISO 13849 category 2 requirements, and because industry suppliers like IDEC have developed specific products based on these new requirements, designers now have improved options available for safeguarding equipment. Category 2 safety devices and methods now make it possible for safety measures to be incorporated in many more situations, providing a better working environment worldwide.
Luiz Shida is a Marketing Specialist at IDEC Corporation and responsible for safety product marketing. Since joining IDEC Japan HQ more than seven years ago, he has become certified as a safety sub-assessor in Japan, and he is a specialist in safety products.