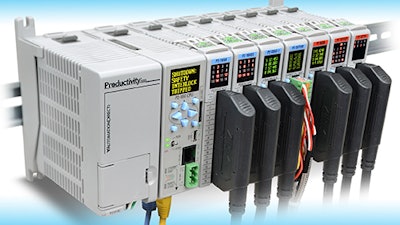 AutomationDirect
As a large automation supplier, AutomationDirect carefully monitors the development of Big Data and the Industrial Internet of Things (IIoT), and it's clear these technologies are impacting industry. That's not surprising as the purpose of these technologies are to improve the bottom line and improve profit margins using data collection and analysis to deliver benefits.
Many automation professionals are becoming more data-driven and are trying to stay at the crest of this wave of new technology. However, the majority have already implemented data collection on automated machines, processes or in their facility—so part of the battle has been won. The next battle is to examine what data is being collected and how, and to analyze this data to provide benefits.
Data Collection Trends
Data collection is common at most manufacturing facilities, along with at least some level of analysis. Ask any automation professional and most will say is very important or at least somewhat important. Data has always been important to the success of plants and facilities—so it has been collected, stored and examined for decades.
While the consumer world has seen more and more data being collected recently, industry started this trend long ago. The result is more data collected and stored by manufacturers than any other segment of the economy, even more than government which is in second place, followed by banking. Because manufacturing collects and stores so much data, the potential for benefits from improved analysis is huge.
The first step to realizing these benefits is data collection, starting with sensors, the "things" in the IIoT. Sensors abound in machine automation and discrete part manufacturing applications, and they are commonly connected to PLCs and other controllers, and sometimes directly to human machine interfaces (HMIs). It's important that these PLCs have extensive data logging capabilities, as found in modern controllers (See figure, top right). As mentioned, HMIs are also frequently used as data collectors.
Distributed control systems, PCs, process historians and supervisory control and data acquisition (SCADA) systems are widely used in the process industries for collecting and storing data.
And many of these data collection and storage systems can connect to the cloud, which features virtually unlimited and easily scalable storage, along with worldwide access.
Common data collected includes discrete on/off data such as motor status, valve status, position, presence, etc. Leading analog sensor measurements include temperature, pressure, flow, level, current, speed, weight, etc. Data collection and storage components often covert this raw data into summary information as KPIs, OEE, etc.
Analytics is the Next Step
The biggest area of advancement related to Big Data and the IIoT will be data analysis. Much is being developed now, such as cloud analytics, but it has not fully matured. Currently what is popular is simply importing or copying and pasting data into Excel where it is computed, sorted and graphed. Others are importing the raw data to SQL where it is queried or used by other programs. Specific data analysis software, such as Seeq and other advanced analytic applications, are relatively new but growing rapidly in popularity.
Not surprisingly, analysis is focused on process improvements through diagnostics, preventative maintenance, enhanced troubleshooting, optimization, etc. Quality control, energy efficiency and production forecasting are also being analyzed to improve the bottom line.
Data collection tools are well developed, creating a large amount of data, and new smart sensors and wireless devices will add to the available data. Places to put all of this data using IIoT methods will mature, along with better analysis tools. Much of this advanced infrastructure is being developed now, but don't wait to collect the data because it is valuable now, and will become more so as technologies to exploit it progress.