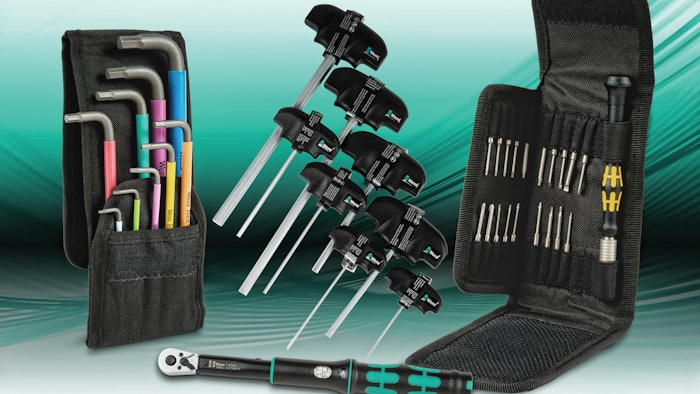 AutomationDirect
AutomationDirect (Cumming, GA) has added 14 new assorted Wera tools, including miniature and insulated screwdriver sets, a driver-bit set, metric and Imperial T-handle and L-key hexdriver sets, an impact driver set and adjustable torque screwdrivers and torque wrenches. Some of the available sets include:
The Wera 17-piece 5/16-inch hex socket drive impact driver set, with an impact driver, Phillips bits, slotted bit, hex bits, Torx bit, square socket adapters and durable cloth pouch.

A new 20-piece miniature driver bit set with a Micro ESD (electrostatic discharge) safe bit-holding miniature screwdriver with slotted, Phillips, hex, Torx and 5 lobe bits.

Multicolor 9-piece L-key hexdriver sets in imperial and metric sizes.

8-piece T-handle hexdriver sets in both imperial and metric sizes starting.

A new torque screwdriver kit that includes three torque drivers (ranging from 2.5 to 55 in-lb) and 24 driver bits.

Adjustable torque wrenches with reversible ratchets available in four torque ranges from 1.5 to 150 lb-ft. and three drive sizes (1/4, 3/8, 1/2 inch).
For more information, visit www.automationdirect.com/tools; or call 800-633-0405.