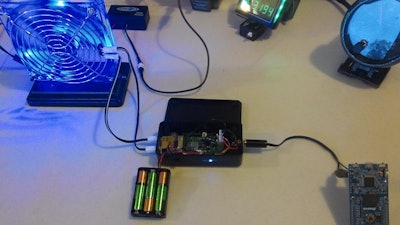 Jennova
When it comes to the Internet of Everything (IoE), forecasts seemingly just keep growing for new opportunities and applications. Recent estimates show there will be around 50 billion connected devices by 2020. Even more interesting is that over 20 million energy harvesting (EH) devices were sold in 2014.
So, what does energy harvesting have to do with IoT? It could be the answer for supplying low cost, highly reliable and sustainable sources of energy for powering billions of interconnected IoT devices.
Renewable energy is focused on the capture of unused or "lost" energy from ambient sources and its conversion into usable power. There are two broad categories under this methodology. One is the "utility scale" use of alternative energy produced by sources such as wind turbines and solar panels. The other refers to the harvesting of energy from a variety of "small scale" technologies.
Differences exist in the power produced by both for viable purposes. For instance, while wind turbines can provide approximately 1.5-3MW (mega watts) per hour, most small-scale EH methods produce only in the micro-watt range. EH examples include kinetic energy or the arm motion used to power wristwatches, photovoltaics that convert solar radiation into direct current electricity, and RF power harvesting, which utilizes special antennas to collect energy from stray radio waves.
In contrast, Electrodynamic EH operates under Faraday's law of induction. Simply put, energy is created when a magnetic presence passes by a coil. This energy is then captured and converted into a usable current in the milli-watt range, which makes a significant difference when attempting to power low-demand IoT layers.
Electrodynamic Energy Harvesting in IoT
So, how does Electrodynamic EH fit into the next wave of IoT applications? As the power requirements for devices grafted into IoT-style solutions significantly decreases, the value from energy generated by EH technologies is now greatly expanding.
For many of these devices, the 10mW range is just about the output needed to operate smart-sensors, multi-sensors, nodes and similar devices. Another advantage is that motion sources are now widely available in all key markets to drive electrodynamic energy harvester devices. The most dominant of these excitation methods are vibration, liquid or air flow, and rotation.
Of these, vibration offers the greatest potential due to an unlimited amount of excitation sources such as mechanical and environmental vibration, human motion, and wind.
However, the fundamental drawback is that the energy generated is only about 4-800 microwatts per cm3. While there is value in that amount of power, it's still nowhere near that ideal "10mW" goal. Initial uses for the moment involve low-power, non-continuous applications such as television remote controls.
In comparison, flow-based electrodynamic energy harvesting typically uses the electrodynamic effect to act as a micro-generator, where the device captures the flow of wind or liquid causing an internal motor to spin and generate energy. The drawback is that most of these harvesters are relatively bulky.
The benefit is that the amount of available power generated can be significant, up to 540mW at 25 liters per minute. As a result, this method offers numerous potential opportunities to the sewage, water-treatment or chemical processing industries as well as smart homes powered by the energy produced from moving water.
And finally, there is rotation-based electrodynamic energy harvesting, which is growing in popularity due to ability to offer high and continuous amounts of motion. Common areas where one might use this form of EH are cooling fans, internal gears, ventilation systems and existing engines.
As for power availability, models have been known to produce above 60mW of continuous output, provided there is motion. Because of this, there here are numerous theoretical applications for energy harvesting within the body sensor networking (BSN) and Smart Car markets as well as the Internet of Everything.
BSN opportunities currently exist within the medical, consumer, and fitness fields. For wearable devices, medical body sensors and connected fitness products, the battery life, and/or reliability of timely ongoing data collection is key. Imagine how much more information could be extrapolated from the additional data collected from fitbits that are never removed for power reasons?
In addition, in relation to medical-based body sensor networks, the ability to continually gather information 24/7 could be indispensable for both saving lives and promoting better health.
As for the realm of Smart Cars, automotive vehicles waste tremendous amounts of energy. Gasoline engines only use about 25 to 30 percent of the initial energy they create. Research is already well underway to perfect methods for either minimizing or capturing this lost energy.
However, rotation-based electrodynamic energy harvesters are now available to improve the efficiency of electric vehicles by recycling significant amounts of power back to the battery. And beyond just battery replenishment, new Smart Car style applications could even provide attractive upgrades to older vehicles.
By utilizing energy harvesting as the power source, smart and connected car upgrades could be made readily available for the simplified integration into older models, thus offering a more approachable and attractive product for a broader consumer base.
Another phenomenon is the Industrial Internet of Things (IIoT), which is expected to become a $330 billion market by 2020. Many of these solutions are going to require remote sensing where onsite power is typically unavailable and the cost to continually replace batteries is unattractive.
Concerns also surround security and interoperability. Although progress has been made to satisfy these challenges in recent years, the ROI issue remains.
For building energy management systems to succeed financially, they must coincide with the significant cost reductions achieved through the monitoring, optimization and metadata derived from key spaces or systems like HVAC, lighting and automated controls. In the past, reasonable ROI could only be achieved for 50,000 sq. ft buildings or larger. Unfortunately, this represents only five percent of the potential market.
So, what's the solution? IoT-based systems custom tailored to individual business needs in a "one solution at a time" approach. This includes differing sensor and software combinations using for example a vibrational electrodynamic energy harvester as the power source. Modular upgrades could then be easily integrated into a company's existing system infrastructure to ensure ROI and justify installation time and costs. Under such models, software updates on open platforms would also provide extremely cost-effective alternatives for enhancing IoT systems worldwide.
However, one of the biggest hurdles surrounding the integration of these systems is uniformity. Basically, there is no one size fits all product when it comes to energy harvesting. Every IoT solution and environment is different. Even companies that have invested in the early adoption of IoT systems powered by energy harvesting have found it difficult to link all the technologies through unified platforms.
To overcome this issue, companies working to implement IoT solutions will need to seek the assistance of energy harvesting providers dedicated to performing the R&D necessary to overcome energy platform challenges. In return, while taking most of the risks, these corporate pioneers will not only be rewarded with ground-breaking, energy-saving methods for operating IoT solutions and gathering mass amounts of usable data, but also with pathways establishing leadership and mantles of innovation in their respective industries.